Bahamasuncensored.com
Compiled, edited and constructed by Russell Dames... Updated every Sunday at 2 p.m.

Volume 10 © BahamasUncensored.com 2013
While material on this web site can be used freely by other sections of the press, as a courtesy, journalists are asked to attribute the source of their material from this web site. Click here for the law on copyright as it applies to this web site.
The site is compiled and edited in The Bahamas by Russell Dames, with writer Claire Booth

---
12th May , 2013
Welcome to bahamasuncensored.com

How do you do today? It's great to have you as a reader. We have the most incisive political news about and from The Bahamas!

Please tell all your friends about us.


The Official Site of the Progressive Liberal Party...

Interesting Places...
Click on a heading to go to that story; press ctrl + home to return to the top of the page.
---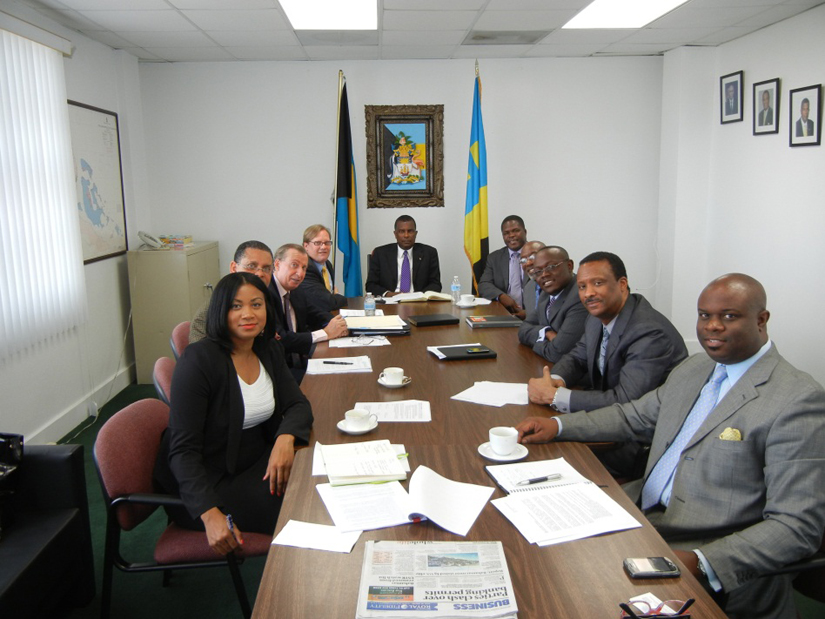 THE BUSINESS COMMUNITY MEETS:The Honourable Fred Mitchell, Minister of Foreign Affairs and Immigration and representatives from the nation's major private sector organizations met recently to agree to establish an ongoing public-private sector effort to undertake positive and constructive activities to address both the Government's and the private sector's needs related to work permits. Joining the Minister was Minister Ryan Pinder, Minister of Financial Services; Minister Khaalis Rolle, Minister of State for Investments; Immigration Director William Pratt; Chester Cooper and Edison Sumner from the Bahamas Chamber of Commerce and Employers' Confederation; Stuart Bowe and Frank Comito with the Bahamas Hotel and Tourism Association; Robert Sands representing the Bahamas Hotel Employers Association; and Aliya Allen with the Bahamas Financial Services Board.

The parties agreed to work together to: undertake a skills needs assessment to help guide training; improve the current work permit review and approval process; strengthen communication between the Department and companies; and improve company awareness regarding procedures required to apply for short-term or long-term work permits, an appeals process, resources for training and sourcing potential Bahamian applicants.

That is our photo of the week taken on Monday 6th May at the headquarters of the Department of Immigration..
COMMENT OF THE WEEK

WHAT'S THE MATTER WITH DIONYSIO D'AGUILAR?
The Freeport News reported that the former Head of the Chamber of Commerce of The Bahamas said these words when he spoke to the Grand Bahama Chamber on Thursday 9th May in Freeport: " Everyone knows that there is an enormous skills gap in our workforce, and such things as work ethic, productivity, timeliness and honesty are traits that The Bahamas scores very unfavourably in comparison to other jurisdictions."

Let us translate that for you. What he was saying is that Bahamians are lazy, indolent, thieves who have no skills and are "untrainable". That is a helluva thing for a former Chamber President to say. This is a man whose main business interests are washing clothes and selling food. The people who go to wash the clothes live in the bottom, over the hill, they aren't the rich people that he loves so much but the ordinary people who come from the labouring classes. Presumably these same lazy, indolent, thieves who have no skills are good enough to wash their clothes in his laundry and good enough to buy food from his food stores.

In this regard, Mr. D'Aguilar now seems to have joined Eileen Carron and her racist rhetoric about the lower classes in The Bahamas. Everything is wrong with them except their ability to buy her newspaper. Mr. D'Aguilar is now saying everything is wrong with the Bahamian worker except their ability to buy food and wash clothes.

Unlike Mrs. Carron, we do not believe that Mr. D'Aguilar is a racist. We think that he needs to learn a lesson in how at his age to be more judicious in his speech. You can have report after report that describes a situation or a condition but one is ill advised to adopt some things publicly as your own without screening out things that are generalization and extrapolations which even if correct do not fix the condition which you are trying to fix.

Our advice again is for Mr. D'Aguilar to simply think first and speak later. He is not a candidate for office and he must be careful that those of his friends who invite him to these fora are not using him to do their dirty work in their campaign to unseat the PLP while they hide behind his coattails.

Number of hits for the week ending Saturday 11th May 2013 up to midnight: 119,747
Number of hits for the month of May up to Saturday 11th May 2013 up to midnight: 172,375
Number of hits for the year 2013 up to Saturday 11th May 2013 up to midnight: 2,681,257

---
CONTACT US AT E-MAIL: placid_point@yahoo.com
HAPPY MOTHER'S DAY SOUTHERN SHORES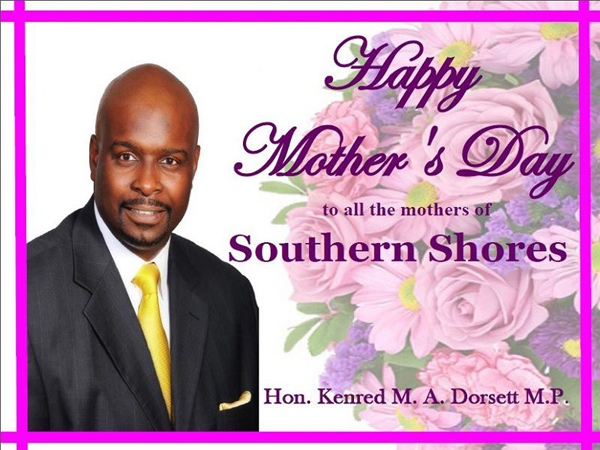 ELLISTON RAHMING PRESENTS CREDENTIALS AT THE OAS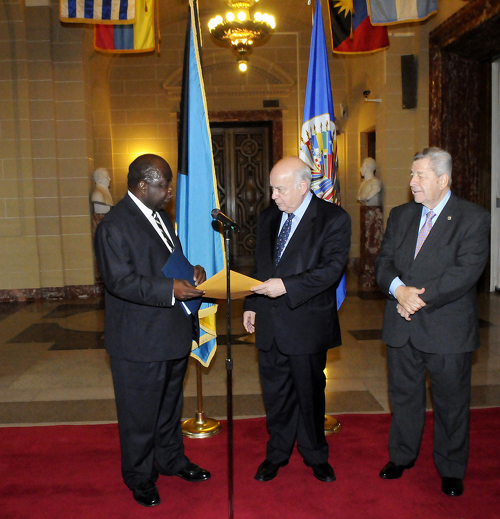 Presents Credentials
From left to right: Elliston Rahming, Permanent Representative of The Bahamas to the OAS José Miguel Insulza, OAS Secretary General Arturo Vallarino, Chair of the OAS Permanent Council and Permanent Representative of Panama to the OAS.


May 6, 2013
The new Permanent Representative of The Bahamas to the Organisation of American States (OAS), Elliston Rahming, 6thMay presented to the Secretary General of the institution, José Miguel Insulza, the credentials that accredit him to the hemispheric institution.

During the ceremony, held in the Hall of Heroes at the OAS headquarters in Washington, DC, Ambassador Rahming said that, although he is just beginning as his country's representative to the organisation, he is already aware of the benefits brought by the institution. "Last year, in my former position as Superintendent of Her Majesty's prison, I had the opportunity to participate in the Third Meeting of Authorities Responsible for Penitentiary and Prison policies of the Americas, which gave me firsthand knowledge of the work of this organisation and the many hemispheric issues that it addresses," said Ambassador Rahming.

"When we joined the OAS in 1982," said the Bahamian diplomat, "we made a commitment to the democratic ideals which are the foundation of this most important regional body. I wish to reconfirm my support and the support of the government of The Bahamas to the organisation, to the Secretary General, and to the OAS Secretariat, to strengthen The Bahamas' engagement within the OAS," he concluded.

For his part, Secretary General Insulza welcomed the new Permanent Representative of The Bahamas and highlighted the economic successes of the country, in terms of per capita income and income distribution. "We appreciate the fact that your country, as an independent nation, has demonstrated how it is possible to prosper and develop and face economic and social problems with a very progressive view," said the Secretary General.

"In economic terms, in social terms, in the way you deal with issues of immigration, also in matters of political democracy, in matters of security we have a lot to learn from you, and will be very proud to cooperate with you," said the leader of the hemispheric organisation upon receiving the credentials of Ambassador Rahming.

Several representatives of the Member States attended the ceremony for the presentation of credentials, as well as Permanent Observers to the OAS and senior authorities from the General Secretariat of the organisation.

OSWALD INGRAHAM DEPUTY TO THE G G


Oswald Ingraham, the former Speaker of the House, was sworn in on 9thMay as Deputy to the Governor General. He will act as Governor General while Sir Arthur Foulkes is out of town on a visit to Japan. While in Japan until 23rd May, Sir Arthur will accompany his wife Lady Foulkes who is launching a ship in her honour owned by Campbell Shipping. The swearing-in was administered by the Chief Justice Sir Michael Barnett as family and friends looked on. Two photos of the swearing-in are by Derek Smith of the Bahamas Information Services and the departure of Sir Arthur and Lady Foulkes is by Peter Ramsay of the Bahamas Information Services.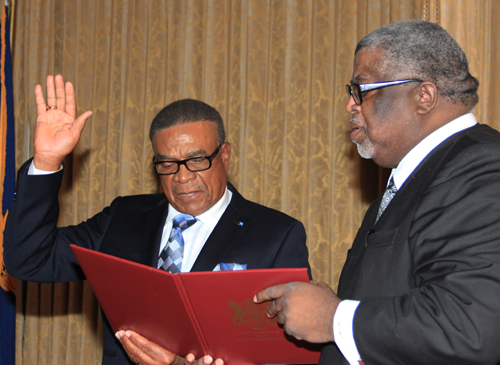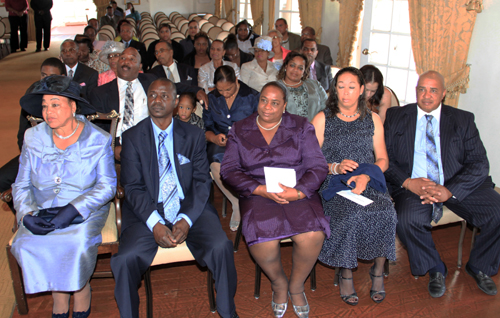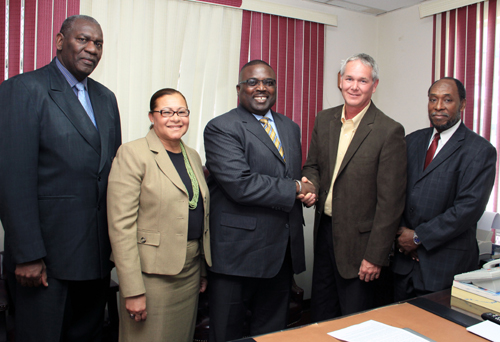 Public Private Partnership between Bahamas Agricultural Industrial Corporation (BAIC) (Bahamas Technical and Vocational Institute (BTVI) and Bahamas Elevator Systerms (BES) held a press Conference on Wednesday May 8, 2013, in the Board Room of BAIC. Left to right Mr. Ben Rahaming, Dr. Dahl, Chairman Arnold Forbes, Owner/General Manager of Bahamas Elevator Systerms (BES) Mr. Richard Tighe and Don Major. (BIS Photo/ Derek Smith)

May 8, 2013

Nassau, The Bahamas -- There should be a minimum of 50 qualified elevator technicians and inspectors as a result of a new training initiative at the Bahamas Technical and Vocational Institute, it was stated at a press conference, May 8.

Executive Chairman of the Bahamas Agricultural and Industrial Corporation (BAIC), Arnold Forbes, formally announced the Public Private Partnership sponsoring the programme as BAIC, BTVI and Bahamas Elevator Systems (BES).

Mr Forbes said it has always been the belief of BAIC that a strong and thriving small business community can be the catalyst for a strong and vibrant economy, employing thousands and economically empowering the people of The Bahamas.

"Today, the public private partnership that BAIC is fostering, is another step in the development of programmes involving government and the business community," said Mr Forbes.
He said that six months ago BES general manager/owner Richard Tighe met with Don Major, BAIC's deputy general manager and found it challenging to find qualified trained elevator technicians to meet the demands of projects, like Baha Mar, which offer an abundance of jobs where Bahamians can and should be employed.

"Therefore, recognising this ever-widening abyss within this industry sector, Mr. Don Major of BAIC, Mr. Richard Tighe of BES and his consultant, birthed this partnership and enlisted BTVI's participation as a vital part of the collaboration," he said.

The Executive Chairman said generations of Bahamians will benefit vocationally and economically and that the programme in its completed phase will qualify a minimum of 50 elevator technicians and inspectors.

For Richard Tighe, launching of the programme is a dream being fulfilled, a dream to see qualified young Bahamians, learning and executing a profession that continues to look to the outside for trained technicians to service the elevator industry in The Bahamas.

He related how he was asked by a family member to come home from Canada and help another ageing family member to save the business.

"I should point out that it was a decaying business and needed trained and experienced human capital," he said, stating that the consultant arranged for him to meet with BAIC's Dr Major for guidance and direction on the way forward.

Mr. Tighe said that after much discussion they met with Dr. Iva Dahl and her team from BTVI, introduced a Technical/Training Institute as a partner to provide BTVI with the initial resource personnel required to conduct the programme as well as develop BTVI's capacity to sustain it.

"I cannot stress enough the importance of this union, a collaborative effort from all parties. With this kind of partnership, the end result is, a win-win situation," said Dr. Dahl.
The BTVI manager called the partnership encouraging and said it will have the impact of stimulating a little-known industry that is predominantly staffed by non-Bahamians, "Because the local Bahamian does not carry internationally recognised certification."

She said, however, that the programme would help to expand BTVI's curriculum offerings and also offer International Certification.
-30-







BRADLEY ROBERTS MARKS THE FIRST YEAR




Making the talk show rounds to celebrate the PLP government's first year in office was the PLP's National Chairman Bradley Roberts, pictured far left . Next to Roberts is show
host Shenique Miller and her co-hosts Michael Turnquest and Kedar Clarke.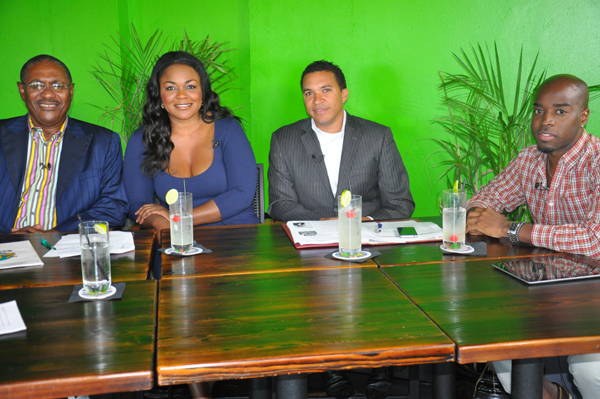 GEORGE SMITH RECOUNTS THE HISTORY OF BLACK REVOLT


The country moves inexorably toward the celebration of its 40th birthday. The House of Assembly concluded a debate on making 10th January, a national holiday, making it 11 holidays per year in addition to Sundays being public holidays. Former Minister and MP George Smith was the Parliamentary Secretary in charge of organizing the celebrations for the first independence in 1973. You can link here to his full address on the issue of how independence came and the link to the fight by our African ancestors for freedom. The address was given to the Delta Lambda Boule Dinner at the Balmoral Club on 9th May.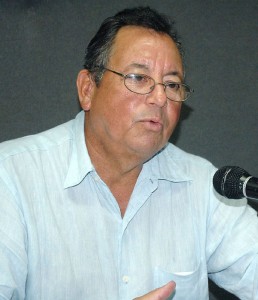 You may click here for the full address.





OLYMPIC HEAD IN PERU VISIT


INTERNATIONAL OLYMPIC EXECUTIVE - Bahamas Olympic Committee President Wellington Miller has introduced newly elected Vice Presidents of The Bahamas Olympic Committee Derron Donaldson and Cora Hepburn to the president of the International Olympic Committee, Dr. Jaques Rogge. The group was in Lima, Peru 24-27 April for the International Olympic Committee's 'World Sport For All' conference, focused on the principle that the practice of sport is a human right that should be available for everyone, everywhere, without discrimination. Cora Hepburn, a former president of the Volleyball Federation is the first female president of an Olympic sport federation and the first ever female Vice President of The Bahamas Olympic Committee. Derron Donaldson is the youngest ever Vice President of The Bahamas Olympic Committee. Pictured from left at the start of the IOC's 'Sport For All' 3 mile Walkathon, which climaxed the conference are Donaldson, Hepburn, Dr. Jaques Rogge, President of the International Olympic Committee and Wellington Miller, President of The Bahamas Olympic Committee.


Meanwhile in Nassau, another of the volunteer athletic associations the Bahamas Association of Amateur Athletics was in the mood for bloodletting. It goes something like this. Last year a younger team was elected to head the organization with men like Iram Lewis the former Olympian, Carl Oliver and Harrison Petty elected to office. The only one of the old team that survived was Mike Sands, himself a former Olympian. Mr. Sands moved against the three elected last year by arranginga vote of no confidence two weeks ago. The legality of that is to be questioned in a court but in the past week it has been all over the press. It is particularly troublesome given the fact that Iram Lewis was also elected to be the BAAA's representative on the Bahamas Olympic Association's Board. It looks like the Olympic Association may have to step in to solve the crisis.
NEW FRENCH AMBASSADOR PRESENT CREDENTIALS

Her Excellency Ambassador of Republic of France to the Commonwealth of the Bahamas (Right) presented her letters of credence to Governor-General His Excellency Sir. Arthur Foulkes (left) in ceremony at Government House on Thursday May 9, 2013, in the Drawing Room of Government House. (BIS Photo Derek Smith)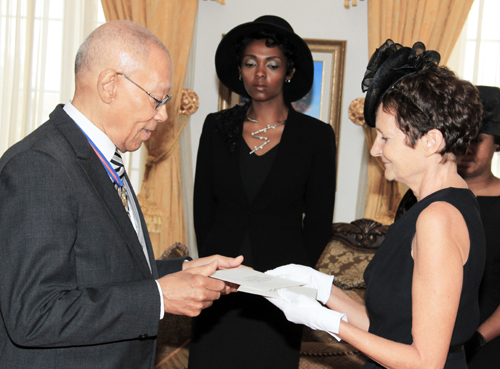 Mitchell on the Morning Blend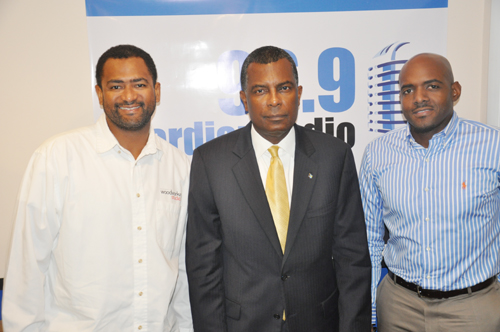 Foreign Affairs Minister Fred Mitchell appeared on the morning blend last monday to discuss the PLP's first year anniversary in government which was celebrated last Tuesday. His overall assessment was that given the fiscal challenges and available resources, the government performed fine. He told the country that he had no regrets over the gambling referendum as all three political parties, the PLP, FNM and DNA promised a referendum on web shop gaming if elected and the PLP fulfilled their election promise.

When asked if the PLP over promised, Mitchell pointed out that a general election is essentially a bidding war where parties market themselves and their vision and the most attractive party with the most attractive message wins.

This is an interesting question that kept coming up during the week. Bahamians and many in the media have clearly forgotten that just five short years ago Hubert Ingraham promised to turn the economy of Grand Bahama and establish a Ministry of Grand Bahama and failed. He also promised to resume capital punishment and failed as well.

He said that if after 5 years he could not cause to come to trial hundreds of persons after spending two years on remand for murder, he would call himself a failure and tell the Bahamian people "I have failed thee"
and that being voted out of office would not be sufficient punishment for him. He said he would deserve much worse punishment than that.

He said it was unthinkable and unbelievable.

We all now know that he was a dismal failure on that and he made that brazen pronouncement while in government.

Clearly politicians make promises while in opposition and believe that they can make good on those promises at that time but circumstances sometimes change or they are exposed to the true and full state of affairs of the government after the general elections and must shift priorities to proper manage existing realities.

Generally it appeared that the critics of the PLP tried to hold them accountable after one year for promises the party made as part of a five year plan. Ah well, that's how it is in The Bahamas for the PLP when those who control the communications machinery are not with the government.

Our picture then is that of Minister Fred Mitchell (center) with hosts of the Morning Blend, Farrell Goff left and Dwight Strachan, right.
(BIS Photos/ElcottColeby)


One year ago on 7th May 2012, the PLP swept back into power with 29 seats out of 38 seat assembly. Within a year they mad made it 30 seats with the bye-election victory in North Abaco. The year has been a difficult one with the opposition press mobilized to ensure that the bitter messages of opposition triumphed over the sound policies and reasonable nature of a PLP administration facing an economy in worse shape than anyone ever imagined. The PLP met at the church of Rev. Dr. William Thompson of Faith United Baptist Church last Sunday to mark the occasion. The faithful gathered with their elected and appointed representatives. The photos are by Peter Ramsay of the Bahamas Information Services.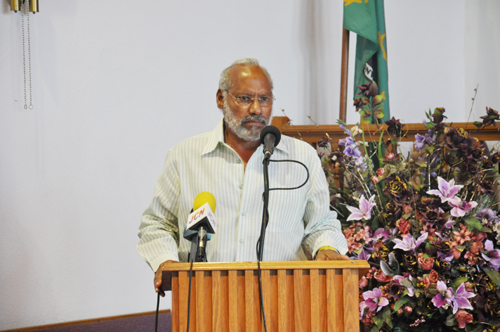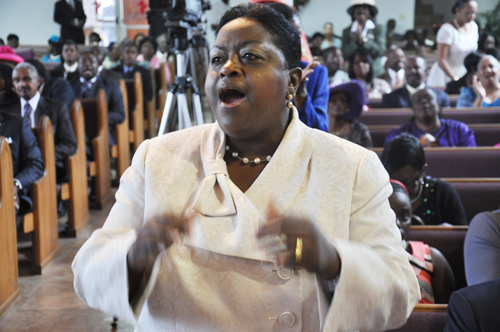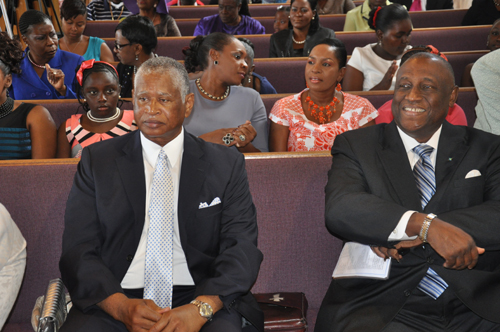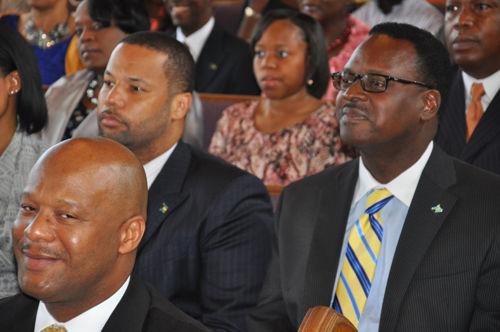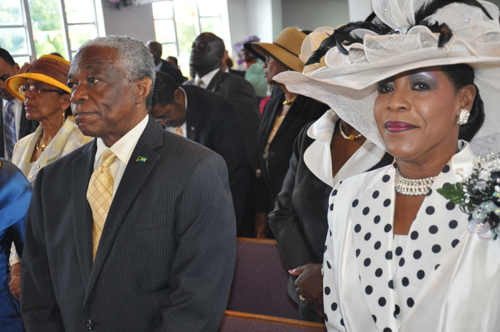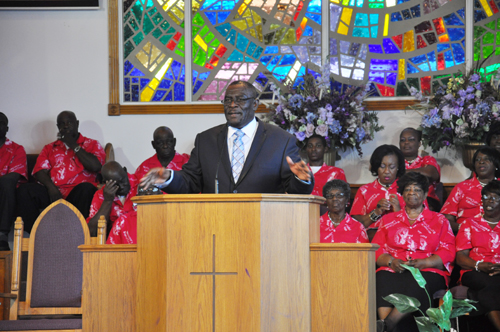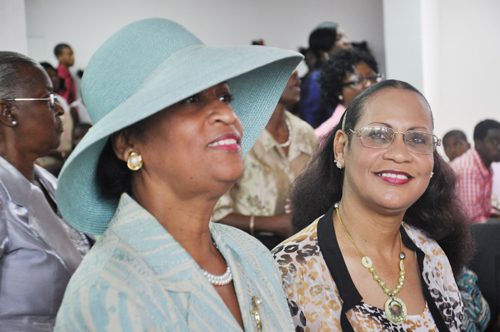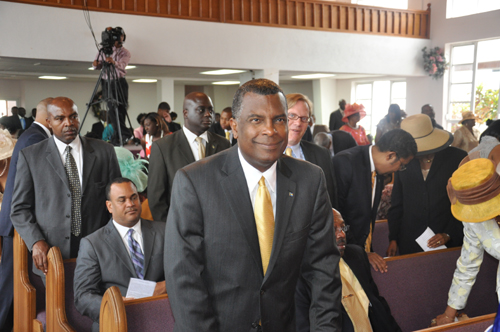 E GOVERNMENT PORTAL IN THE FAMILY ISLANDS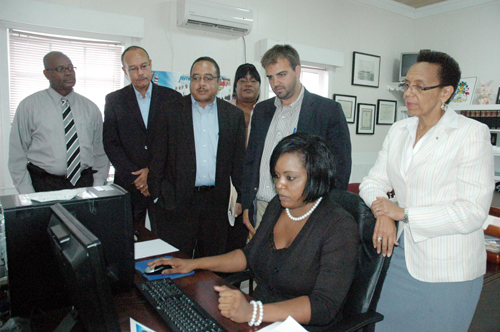 Attorney General Allyson Maynard-Gibson, right, watches as a vital document is produced in the Administrator's Office in Harbour Island. The exercise was also carried out in North, Central and South Eleuthera. Also pictured: Archie Nairn, Permanent Secretary, second from left; Damian Gomez, State Minister for Legal Affairs; and Clay Sweeting, a candidate in the 2012 general election. (BIS Photo/Gena Gibbs)
Eleuthera, The Bahamas -- Mobilising the Registrar General's services to the E-government portals will provide Family Island Local Government Administrators to facilitate basic Justice of the Peace (JP) powers to confirm births, deaths, and marriages.
Attorney General, Senator the Hon. Allyson Maynard Gibson, State Minister for Legal Affairs, the Hon. Damian Gomez, and Permanent Secretary Archie Nairn, along with IT specialists from the Registrar General's Office in New Providence visited the Local Government Administrator Offices in Harbour Island, North Eleuthera, Central And South Eleuthera May 9 to install and briefly train staff to access the database and print out certificates for the Administrator to authenticate on site. The cost of documents are about $10 each, which is the same as if paying for it in Nassau.
"This entire project is really the mandate of our prime minister, who is adamant that we will be seen truly as one nation. We are an island-nation and people who live in the far flung islands should feel that their government cares about them, and that they are entitled to the same kinds of services that exist in Nassau," said AG Maynard Gibson.
The Attorney General referred to an incident involving a Bahamian woman who needed to have copies of vital documents such as birth certificates and passports. She said the Eleuthera resident explained that the only way to get the services was to plan a $500 trip to New Providence and pay for accommodations, transportation, meals, just to get a birth certificate or passport in Nassau.
Senator Gibson is also concerned about easing the cost and convenience of doing business in the Family Islands. She wants the nation to raise its current international profile of being rated the 77th most convenient country to operate international business.
"I texted the Minister for Foreign Affairs and I told him that 'Look, certified copies of birth certificates are needed and we can get them right here in our own community. Let's bring the mobile unit for E-Passports to North Eleuthera and to South Eleuthera as well, that way people can get their birth certificates, and also their passports right at home'. So, rather than spending $500 for you getting a service you can get in your own community, let's provide our people, as the Prime Minister has dictated, services in their own community. Well that's convenience for our people," said the Attorney General.
"The Minister also spoke about the ease of doing business. You'll know that The Bahamas is rated number 77 in terms of 'ease of doing business' and people see us doing this kind of thing. They recognise that the Government is very serious, whether you are a Bahamian or a non-Bahamian investor, about making it easy to do business in our country. These are all things that, one by one, two by two, add up and our Prime Minister is working hard and is insidious; he works tirelessly to make sure that our people feel the impact of Government, a supportive Government and that the world sees The Bahamas is a world class place in which to do business."
Attorney General Gibson stated that all of the Registrar General's services can and will be provided by Family Island Administrators. She said they want to be sure that the step by step process is followed, that it is working effectively, and that proper training and technical support for the Internet services are provided for the Local Government Administrators as well. Eventually, she said the Registrar General's project is expected to evolve into offering documentation services for conveyances and mortgages, so more lawyers and attorneys can provide services in the Family Islands.
"All I do want to say that the Minister responsible has been made aware. He does recognise that it is important and that the possibility of it, so I'm quite confident that right now as we speak, he's investigating what would it take to bring it down; how long would we have to keep it here in Eleuthera to provide for those children who want to travel with their parents and that kind of thing," said AG Gibson.
"I'm quite sure that he recognises as well that once you bring it to Eleuthera now, the other Family Islanders are going to say 'we want you to bring it here, too'. So, I'm sure he is embarking on that whole investigative exercise and I feel fairly confident that it will in short order happen in place where you can get your certified copies of birth certificates because that's a key part of getting a passport."
Permanent Secretary Archie Nairn added that this is the time of year when there is a great demand for passports and for people travelling, as it relates to vacation time.
"How convenient is this? Isn't it wonderful that people right here in Governor's Harbour would be able to come in to the Administrator's Office, who now has the authority to certify these documents in law and receive that document, which is a requisite for the package that you submit to the passport office. It's a wonderful thing and we are on a good path," said PS Nairn.

THE GRAND BAHAMA CHAMBER OF COMMERCE BY BRIAN SEYMOUR

GRAND BAHAMA CHAMBER OF COMMERCE - "DON'T CALL ME, I WILL CALL YOU"

It seems that the executives of the Grand Bahama Chamber of Commerce have taken a cloak and dagger approach to oppose the new PLP administration. To mark the first year anniversary of the PLP's re-election of government they invited as their guest speaker, DionosioD'Agular of Super wash, a former president of the Bahamas Chamber of Commerce. Mr. D'Agular lived up to his billing from the beginning of his speech to the end. His remarks were generally antagonistic against the Port Authority, and to a larger extent, the government of the Bahamas. This is from a body whose sole purpose is to promote local business and industry. An FNM supporter said four years before the next election is called it was a ludicrous decision to invite D'Agular. He believes that some executives of the Chamber have a hidden agenda. Although, "I am an FNM, he said, it makes no sense to buck head with the government. " "I can't see how this advances my business." He further stated that he spoke with the Chamber's executives and asked them not to invite him to any more of these controversial lunches. The Freeport News on reporting of Mr. D'Agular's speech had some very unflattering things to say about Bahamians in the main. This is from a man who has been very successful with his business interest in the black belt areas of New Providence.

IMMIGRATION IN FREEPORT

There were loose happy hour conversations around some watering holes in Freeport. It did not matter who was in charge of government whether FNM or PLP when it came to Immigration matters, particularly in the industrial section in Freeport. It was said that these special interests were connected.

We are informed that on Friday past, a complaint was made to the Immigration department that there were seven undocumented workers employed without work permits. Everyone was watching to see how the Immigration department would respond. At five minutes to twelve (noon) Immigration officers appeared at the facility; fifteen minutes later, they left the facility accompanied by two individuals. That's much for the loose talk of being "untouchable". It was curious, however, that there were no news report of what took place.

JACK HAYWARD HIGH SCHOOL GRADUATION

The Ministry of Education is caught in a ticklish situation. The Principal and staff of 90 have voted in favor with only four out of the ninety dissenting to forgo graduation exercises for 2013. The behavior of the students were not becoming of young people about to enter the "real" world.

One hundred and forty (140) students, we are informed, are eligible for graduation. We are further informed that only five (5) of those students qualify under the criteria laid out at the beginning of the year. That is not to say that these students do not qualify from receiving their diplomas and various certificates; however, the parents are up in arms about such harsh treatment being meted out. If the Ministry of Education relents, they will be seen as rewarding bad behavior. If they support the parents they may lose some political support. It seems that the people on the ground responsible for the day to day operations of the school should be the ones to make the call.

His Excellency Sir Arthur Foulkes, Governor General of the Bahamas celebrated his 85th birthday on May 11, 2013, 43,000feet in the airin the lounge of Emerates Airlines enroute to Japan where Her Excellency Lady Foulkes is to christen the newest Campbell Shipping Vessel, CS JADEN on Monday May14th 2013. Pictured from left:Kamnna Valluri, Sir Arthur, Cynthia Constantakis, Sonia Cox-Hamilton, Lowell Mortimer and Lady Foulkes. PHOTO: Andrew Chea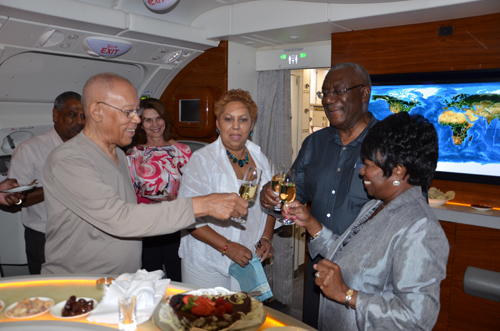 BLESSED IS ANTON THE PEACEMAKER
What a breakfast it must have been yesterday: boiled fish at Anton's. The forces were reportedly gathered at Anton Saunders' home: the two sides, the Ingraham side and the Minnis side of the FNM. Anton is a good guy, party man and a peacemaker. The idea was to bring the Forces together. The man from next to Gambier House, the PLP's HQ, showed up but got the cold shoulder being called by his pen name. He left shortly afterward. Dion Foulkes, the Iago figure of Bahamian politics didn't show. He is furious because he thinks that the former Leader Hubert Ingraham did not back him in his run for Chair of the party. Then as the grapes began to flow, someone suggested to the Leader Dr. Minnis that well it was not a good thing to isolate the Ingraham forces. There was studied silence in response. But it was quite a party, it went on beyond breakfast in the late hours of the day.


Forrester Carroll writes this week from Freeport defending the government's immigration policies and taking apart the attacks by the Opposition on the policy of Bahamians First.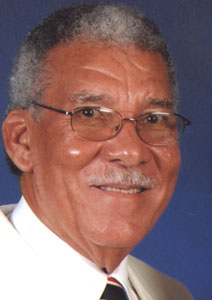 St. Anne's FNM Member of Parliament termed the government's new work permit policy (i.e. that none will be issued where qualified Bahamians are found capable and available) as "excessively aggressive;" former FNM state minister for immigration Mr. Branville McCartney (now leader of the DNA) described it as "extreme; Robert "Sandy" Sands, of Baha Mar, called for more clarity; Ortland H Bodie Jr. submitted that the policy will be ineffective given that Bahamians (in effect) frown at domestic chores; (as well) he claimed, in effect in a recent letter published, that too many of us in high places are quite comfortable with the status quo given that many of us depend on foreign domestic labour to keep our households cleaned; young Dionisio D'Aguilar expressed his usual negative sentiments saying that "it has put a dagger in the heart of creating an environment where it is time to go to the bank and expand your business. The message sent to the domestic investor is if you need foreign talent; don't bother because you won't get a permit. For foreign investors, it sends the message that it is such a bumpy road to get a work permit that maybe you should take your business elsewhere," unquote. Winston Rolle, a former CEO at the chamber of commerce, has also had his say when he opined that "The image being portrayed by the Christie Administration, to the outside world, is "scary;" and now we have the government of the Philippines, energized by the publicly expressed sentiments of frontline Bahamians such as those I cited above, injecting itself into our country's internal affairs (as well) with its comments, delivered through the press recently from its embassy in Washington D.C., asking that the Christie Administration re-consider its policy of "putting Bahamians first?" Can any sane person, here on God's green earth, fathom the boldness of such a request, by one sovereign state, of another? I know there is a language barrier, we speak English and they speak whatever, but do they know what it is that they are asking of us? Are they cognizant that they are asking the Christie government not to put "Bahamians first" but to continue allowing their fourteen hundred Filipino citizens, who are said to be here on work permits, to continue uninterrupted on those work permits (indefinitely); whether Bahamians are found qualified and available for those jobs or not? Are they serious?

While I can understand the concerns of the government of the Philippines, having to cope with another 1400 or so unemployed citizens (at this crucial time) returning home to the Philippines to become a burden on its public social services system (such that it may be), I must ask, however, well what the hell of our citizens? Shouldn't we be totally selfish in this regard? Shouldn't our total, and unequivocal, interest be that of our "Bahamians first" and not concern ourselves with any others? Indeed so and no question about it; but how do you like what we are hearing from our own frontline citizens who are running about for cover while voicing those venomous scary utterances? It seems to me that the ploy is to appeal to what they think would motivate the government to retreat from their apparent hard line stance on the issuance of work permits. They feel that the PLP's interest in maintaining voter support would be so keen that its government would retract from their hard line position, but nothing of the sort; I say to the government be encouraged because there are certainly more who are with us on this issue than those who are against, so stand your ground Mr. Prime Minister. Mr. D'Aguilar (and I am very surprised of him) is too damn smart, and intelligent, a businessman to be engaging in such a trivial ongoing negative dialogue designed (I suspect) to deprive Bahamians? This young astute Bahamian, who served as a chamber of commerce president, of all people (I would have thought) would be backing such a policy; he knows that the PLP government is not the reckless sort that the FNM, led by Hubert Ingraham, was; he knows that the PLP has always been "business friendly" and while the government takes its bounden duty of putting "Bahamians first" very seriously, where cases of genuine need for foreign labour arises he, and all the others, knows that permits would be granted albeit with a very stringent set of restrictions attached. Yes I agree with both him and Winston Rolle that a clear policy must be put (so the public can know) but I disagree with them that that has not been done to date; the policy is as clear as day; it needs no more defining; it needs no more clarity; you have a vacancy at Solomon's or cost right or Super wash, you genuinely search for a Bahamian to take the job; if genuinely a Bahamian cannot be found and you make a genuine case for the talent needed, which must be imported, a permit would be granted but with certain restrictive conditions and provisos.

The Hon. Minister (for immigration) was quick to set the record straight in response to the Philippines government: "This is a rational policy by a rational government, which is acting reasonably in defense of its own people; this is the commonwealth of the Bahamas and there is no apology that has to be made for a policy of Bahamians first;" unquote; amen, so let it be.
It bothers me that our own Bahamian spokespersons have shown little interest in promoting the interest of Bahamians in this regard. We seem to get nothing from them but excuses as to why a policy of "Bahamians first" cannot co-exist successfully in the workplace; rather we are told that it is scary; that it needs more clarity; that it sends a bad image to the international community. Robert "Sandy" Sands" wants more clarity he said; what more clarity does he want? The new policy is simply this: if a job becomes available at Baha Mar they are to make every effort to find a Bahamian citizen to fill the post; if a Bahamian cannot be found (honestly) then consideration will be given to allowing a non-citizen import, however a Bahamian under study trainee would be required to be employed, as well, to fill the position at the expiration of the time given on the work permit. What is there, in this stated policy, that needs "more clarity" I ask you Mr. Robert "Sandy" Sands?

And what about the FNM's shadow minister for immigration, Mr. Hubert Chipman, the MP for St. Anne's who branded the policy "excessively aggressive?" Is he serious? What does this sensible man mean when he says that the PLP is being "excessively aggressive?" Is he saying that we shouldn't aggressively protect Bahamians? If not aggressively can Mr. Chipman tell the government how else it can protect Bahamians apart from being (as he labeled it) "excessively aggressive?" If by ensuring that when jobs become available (anywhere in the country) the government sees to it that all its energies come to bear on ensuring that Bahamians fill those posts he calls it "excessively aggressive" then the policy deserves the branding and, I can assure FNM MP Hubert Chipman, that this government would be very pleased (and proud) to wear the label. To make sure he gets in his two cents, Branville McCartney expressed that he thinks the policy to be "extreme;" what exactly could Branville be thinking about when he said, in a press statement, that the PLP was being "extreme' on this issue? Is the former FNM junior immigration minister saying that the PLP government shouldn't put Bahamians first? For in putting Bahamians first would be too "extreme" and "extreme" is no good? By saying that the policy is "extreme" (may I ask) is McCartney saying that the government shouldn't desist (then) from the former FNM government's very liberal policy of issuing work permits on request, willy-nilly, in preference to a more conservative policy ensuring, at all times, that Bahamian nationals take center stage in the Bahamian workplace? If this is NOT what Mr. McCartney is saying then tell me please, exactly, what is it that concerns this DNA leader, who wants one day to lead we Bahamians, with the PLP advocating a "Bahamians first" policy?
Usually I pay very little attention to Ortland Bodie and what he may have to say on any subject; whether on his talk show or in his "letters to the editor." I took note, however, of one of his letters published recently and saw where he wrote calling the government's new work permit policy (in effect) a useless exercise when it adopted the recent policy of "no more work permits to be issued, come next year, for domestic workers." I deduced, from his letter, that he thinks this effort, on the part of the government, to protect domestic jobs for Bahamians will fail (he claimed) for at least two reasons; (1) that Bahamians are not minded to perform domestic chores, especially that the wages tend to be too low and the work too hard and (2) that too many persons in high places have gotten too accustomed to having (and are too comfortable and dependent on) foreign domestic workers to do their gardening and clean their households. While I understand the argument Bodie made, I do not accept that Mr. Bodie nor Mr. Sands nor Mr. D'Aguilar nor Hubert Chipman nor Branville McCartney should throw the baby out with the bath water in this regard; I submit, instead, that these spokespersons (against the effort) should be encouraging the move by the government so that eventually this prevailing (sometimes mythical) mindset of Bahamians at large could begin to change for how they view jobs in the domestic field.

As for the stance of the Philippine government, and what they had to say on the subject, the Hon. Minister wasted no time, as I said earlier, in letting them know that quote, "This is the Commonwealth of the Bahamas and there is no apology that has to be made for a policy of Bahamians first;" unquote.

Would like to ask Mr. Winston Rolle if he really wants to know what "SCARY" is? I'll tell him what is "SCARY;" it is scary when in this country a foreigner, who is residing and working here, can put an AD in the Freeport News, here in Freeport Grand Bahama Bahamas, for a maid making it clear; stating emphatically that Bahamians need not apply; that Filipino or Peruvian nationality would be preferred; now that is scary Sir. This damn thing is out of hand now and must be corrected.

The policy is sound and prudent; the government is not ruling out being pragmatic; it is however making its position abundantly clear that any benefits-be they jobs, business opportunities and any other-accruing from economic activity in this Bahamas will accrue to "Bahamians first" under this PLP Administration. Gone are the days of FNM MISRULE when Bahamians were marginalized in favour of foreigners in the workplace; work permits will be issued when and if no Bahamian can be found, but even then with a set of stringent provisos for the simultaneous employment of Bahamian under studies; this to ensure that by the time the permits expire there should be Bahamians trained to replace the foreigner in future, that's all; its as simple as that and so I say let it all hang out Mr. Immigration Minister.

I am reminded of a quotation I was once told but the author escapes me at the moment; I quote it here for the benefit of the slaved minds who think like those whose sentiments I quoted in this article above: "In the eyes of a SLAVE another SLAVE is never ever qualified" unquote.
Thank you

Forrester J Carroll J.P
Freeport, Grand Bahama
May 2013.
Omar Archer Charged

Omar Archer, the political activist, who published an intentionally libelous statement about Keith Bell, the Minister and who also posted a death threat, all allegedly on his Facebook page, has been hauled before the courts and charged with a criminal libel and with threats of death. He denied the charges when he was arraigned on 7th May. He was granted $15,000 bail over the objections of the Crown.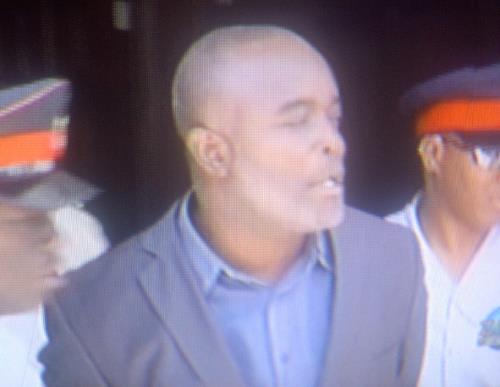 High Commissioner Calsey Johnson At Home In Canada


The High Commissioner for The Bahamas Calsey Johnson and wife are shown in this picture from the Facebook page of Foreign Service Officer Mikhail Bullard who visited with the High Commissioner on his recent vacation in Canada. The pictured appeared on 5thMay.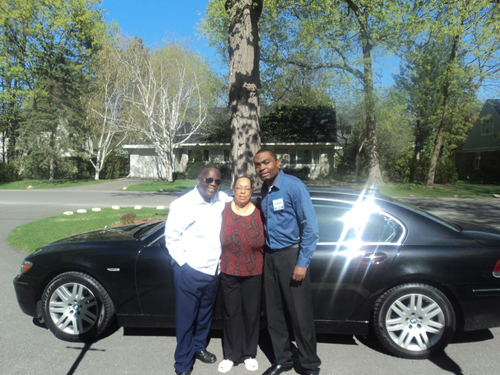 PM In New York

Prime Minister the Right Honourable Perry G. Christie traveled to New York City and along with the Premier of Bermuda spoke on Wednesday 8th May at the christening of Norwegian Cruise Lines new cruise ship"Breakaway". The new ultra-modern "Breakaway" will be the largest shipto homeport in New York and will reopen the more affluent NewYork/Nassau cruise market, giving a further economic boost to thelocal economy.

While in New York the Prime Minister will discuss with Mr. K.T. Lim, Chairman Genting/Resorts World and 50% shareholders in Norwegian
Cruise Lines, the conglomerate's growing investments in The Bahamas. He will also hold meetings with other investors including multiple
international partners in a proposed major development for East Grand Bahama.

Accompanying the Prime Minister were The Right Honourable Obie Wilchcombe, Minister of Tourism, Sir Baltron Bethel, Senior Policy
Advisor and Mrs. Joy Jibrilu, Director of Investments.

The Prime Minister returned to Nassau on Thursday 9th May.


Mitchell In Los Angeles


Fred Mitchell, the Minister of Foreign Affairs, travelled to los Angeles, California for the launch of Sidney Poitier's new novel Montaro Caine. The book is Mr. Poitier's first novel. He is a Bahamian American academy award winning actor, producer writer and director. The launch took place at the Bel Air Hotel in Beverly Hills and was jointly sponsored by talk show host Oprah Winfrey and Beverly Hills politician Lili Bosse on Wednesday 8th May. Mr. Poitier brought the audience to tears as he spoke about how he was motivated to succeed by the example of his parents simple Cat Island farmers. Amongstthe guests from The Bahamas Scott Godet and Deidre Fountain, Rick Fox and his sister Jeanene. Mr. Poitier's friends Bernie Casey, Quincy Jones, Lionel Ritchie, Blair Underwood, Latoya Jackson, Chris Tucker and Berry Gordy were among the other guests. The photos shows the cover of the new book part of which is set in The Bahamas.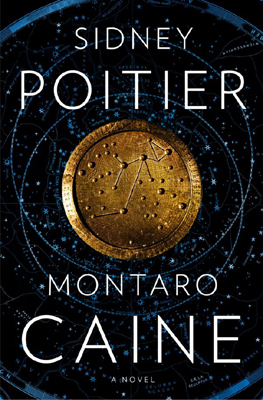 Unlawful Killing Verdict

The police force's reputation took another direct hit with the finding of a coroner's court jury of an unlawful killing in custody of AaronRolle who died from blunt force trauma while in police custody on 9thFebruary. Both the Minister of National Security Bernard Nottage and the Commissioner of Police Ellison Greenslade have reportedly said that the chips will fall where they may. The public will now look to see whether police officers are to be prosecuted for the killing.


Loftus Roker Gets Mixed Up

In a remarkable cock up toward a man who is perhaps the closest friend in politics he has Loftus Roker attacked Fred Mitchell in the press or so it appears. The headline said on Thursday 9th May that Mr. Mitchell deserveswhat he gets and that he Mr. Roker has no sympathy for Mr. Mitchell in the currentimmigration issue. Clearly, Mr. Roker is either misquoted or has misspoken. It was not possible for Mr. Mitchell to have been involved in any demonstration for or against Haitians because most of the operative period that Mr. Roker was Minister of National Security, he was in law school in the U.K. When he did return to the Bahamas, he livedin Freeport up to the general election of 1987 when Mr. Roker demitted office. Further, Mr. Mitchell was for the period Mr. Roker's speech writer and therefore would not have been involved in any statements public or otherwiseagainstLoftus Roker. The Tribuneought to be careful what they print.


The Eastern Region Fair

Ryan Pinder, the MP for Elizabeth, is shown visiting with the folk at the Eastern Region Fair, established by MP Melanie Griffin, to forge a community spirit amongst her constituents. The fair took place in Saturday 4th May.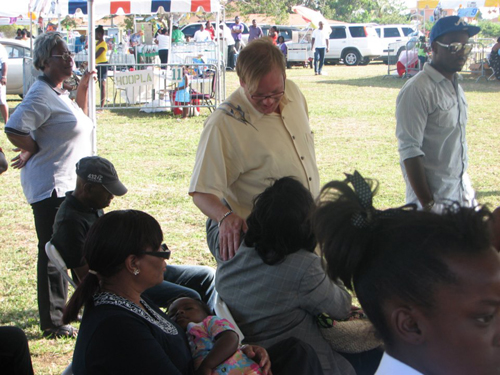 NIB Report Leaked: Moss Says He's Vindicated

So much for the legal niceties. Someone obviously did not like the fact that the government decided not to release the report on the National Insurance Board commissioned of Grant Thornton to look into the conduct and allegations made by PLP MP Greg Moss and the then NIB Board about the behavior of its Managing Director Algernon Cargill. The report was leaked to the NassauGuardian and other press . It showed that bonuseswere paid without the authorityof theMinister. It also showed that Mr. Cargill was a director of a company owned by his brother that rented accommodation to the board. The government did not release the report to the House because it said that it wanted the adverse findings in the report to be presented to Mr. Cargill before the findings were published. Mr. Cargill has been given until 21st May to respond to a directive with regard to responding to the report. The issue is becoming acrimonious and personal with Mr. Gibson attacked by the sister of Mr. Cargill on a radio show accusing him of grandstanding and be smirching her brother'sreputation. Mr. Gibson said that he intends to recover the bonuses in total some 700,000 dollars that were not paid according to law. We continue to say that this needs to get off the front pages of the paper.


Georgette Rolle Bahamian In LPGA


Bahamian Georgette Rolle will make her LPGA debut 23 May in The Bahamas. Ms. Rolle, who resides in Houston, received an LPGA exception and will play in the Pure Silk-Bahamas Classic on the Ocean Club Golf Course.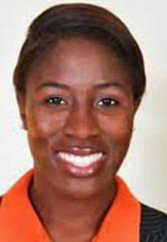 The Sinking Of Flamingo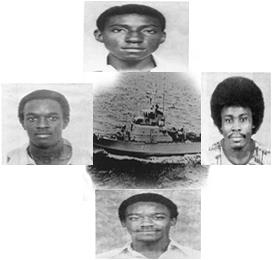 Commander Anthony Allens, oneof the heroes of the HMBS Flamingo, sunk by Cuban Migs off the coast of Ragged Island on 10th May 1980 remembers those of his comrades who paid the ultimate sacrifice:

Today marks yet another anniversary of the sinking of the HMBS Flamingo, which occurred on 10th May 1980. I remember Able Seaman Seaman Fenrick Sturrup, Marine Seaman David Tucker, Marine Seaman Austin Smith and Marine Seaman Edward Williams, those four brave souls that gave the ultimate sacrifice for their country.

There is no doubt that this is the singular most significant incident in the history of the Royal Bahamas Defence Force that should be highlighted and remembered nationally, not merely to highlight the aggression of the Cubans on that day, but rather to allow Bahamians to find some common thread in which to give God thanks.


To the family of those brave sailors I say I shared your pain then as I do now, I pray you find solace in the fact that they are remembered as heroes by their beloved country. To the surviving crew members, let us never forget, and as we reflect on the incident remember but for the Grace of God there go I.


Englerston Donates Computers To Primary

Englerston's energetic MP Glenys Hanna Martin was captured in this photo on her Facebook page showing her making a donation to the school in her area of a gift of computers to Ridgeland Primary. The gift was presented on 20th April.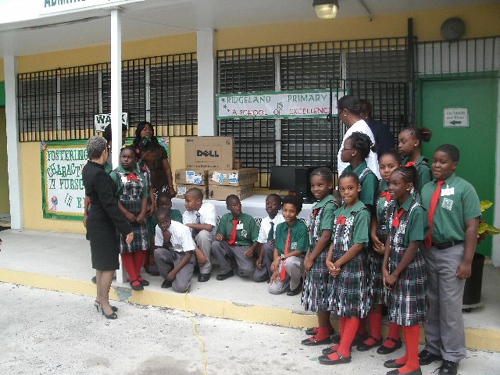 Rev Charles W. Saunders To Retire

Rev. Charles W. Saunders, the Baptist preacher, who has dominated Baptist politics in The Bahamas for a generation and Salem Baptist Union Churches as their Superintendent for just as long is set to step down at the end of August of this year as pastor and Superintendent. Rev. Saunders will be succeeded as the pastor at Salem by his nephew Rev. Hewter Rolle.

Rodney Moncur's House On Fire

There was a house fire which consumed the home of the "peripatetic political jack-in-the-box" Rodney Moncur last week. Mr. Moncur called the press after the fire to show them what happened. He and his wife did not spend the night there for some odd reason, claimed Mr. Moncur. He wept on the screen and posed for pictures which he posted all over Facebook. The sarcasm and jokes about him were legion all over the web. No one believes a word he says about the incident. The fire took place on 8th May. The photo appeared on his Facebook page. Mr. Moncur appeared in court on Friday 10th May to answer charges of gross indecency. He was threatened with expulsion from the court because of his antics. The crown has decided that there will be a preliminary inquiry. Another Magistrate is to hear the case not Carolita Bethel who was originally scheduled to hear it. Mr. Moncur objected to Mrs. Bethel and objected to the Preliminary Inquiry. He also wants to be released from the $7500 bond with two sureties saying that he is being held captive by two nice females ( his sureties). The newspapers will have to invent this character when he is gone.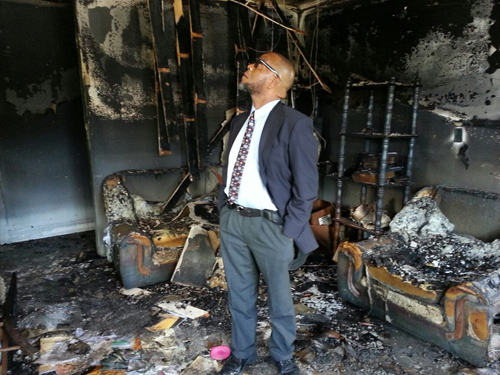 Richard Lightbourne Missing From The House

The debate to make Majority Rule Day 10th January an annual public holiday, marking the political ascendency of the African majority in the country was too much for Richard Lightbourne, the white member of the Free National Movement. He did not show up for a single hour of the two day debate and the record will show that when the time came he did not vote for it. Speaks volumes.


Charles Ramsey To The Rescue In Cleveland

Comment says black people are proud of him for the rescue of the three women who were held in captivity in Cleveland, Ohio in the Unietd States for ten years.