Leslie Miller Sued By Tommy

We have been reliably informed that Tommy Turnquest, the hapless and hopeless Minister of National Security has filed a writ against Leslie Miller claiming that in speaking at a PLP rally in Carmichael Mr. Miller defamed him. We reported the remarks last week in this column. This is quite silly of Mr. Turnquest and his action has no hope of succeeding. This is largely filed one imagines to stop the matter from being discussed in the newspapers. Mr. Turnquest foolishly put his wife's reputation and his own in play by suggesting that remarks about "real men" not beating their wives were directed at himself and his wife.


Ingraham Apologizes For Claiming He Is Greater Than God

At this rally on Wednesday 14th March in St Anne's, Hubert Ingraham was serenaded by the religious anthem: Nobody Greater. The song of course refers to the Almighty God. The public was incensed and Mr. Ingraham was roasted alive by the Bahamian public the next day on the radio. Mr. Ingraham apologized to the public at his rally in South Abaco on Thursday 15th March saying that he did not engineer the song being played and that he did not think of himself as greater than God. We don't believe him. We believe he engineered playing the song and he does think that he is greater than God.


Papa Clown Takes Off As Buzz Word

Philip Brave Davis the PLP's Deputy Leader has for the past month or so been calling Hubert Ingraham "Papa Clown". The expression is a mockery of Mr. Ingraham who just before the last general election declared he was a changed man because he was a Papa or a grandfather. The public started calling him Papa. Now it is using Mr. Davis' Papa clown after Mr. Davis said that Mr. Ingraham has been clowning around on the public stage with the fate of the Bahamian people.

Suggested PLP Solgan

"The PLP KNOW WHAT THE YOUNG GALS WANT!"

No FNM Paraphernalia

We have been given another reason why Hubert Ingraham cannot fix a date for the general election. We have reported before on this site that FNM candidates have been raising hell about the fact that they are short of money and Mr. Ingraham has not been forthcoming with funding. Now we hear that the FNM is simply not ready with all their election paraphernalia. No T shirts, no billboards, no printed material. So Mr. Ingraham is being deliberately vague about when the election will be called. He told the press that it would be sometime between now and the 23rd May 2012 the date the mandate runs out. He says that he will not take advantage of the constitutional provision which allows him to take up to 90 days to call the general election. The PLP has it paraphernalia in place amongst them some 750,000 golf shirts in storage for the general election.


East Park Residents Protest Road Openings

The residents of East Park Estates fought and fought to stop their subdivision from being used as a public thoroughfare almost a decade ago. They were successful in stopping the use of the roads in the private subdivision developed by the late Percy Munnings and now owned by his daughter Judy Deveaux. Now the Ministry of Works has announced that they are opening the road that was closed to vehicular traffic which will allow a diversion as a result of the full road closure of the Fox Hill Road south. Traffic headed north on Fox Hill Road from Sandilands Village Road will be diverted through the pristine and quiet neighbourhood of East Park to the chagrin and ire of the residents. The Ministry of Works say it's for four weeks; but the residents have no faith in the promise of the time or that the fence will be restored to close the road again. The diversion is to start tomorrow Monday 19th March.


Tony Moss Gathers Supporters To Watch TV

When the PLP held its rally last Saturday 10th March in Freeport, a shout out was sent to the people of Exuma by host Dwight Armbrister. He knew why. At the time Anthony Moss, the MP for Exuma, was surrounded by 400 supporters before a big screen TV to watch the rally in Freeport. That crowd was twice the size of the crowd that came out to see Hubert Ingraham when the FNM calling the week before. Exuma is still PLP.


Christie At Church Of God On Wednesday Last

Perry Christie, Leader of the PLP, headed a delegation of PLPs at the Church of God of Prophecy last week on Wednesday 14th March for its annual convention at the big jumper church on East Street.

BTC Abusing The Bahamian Public

Here we go again. The Bahamas government sold BTC so that its Minister of State for the Environment Phenton Neymour can watch Law and Order on the beach in Exuma. Not only can't he do that but the service of BTC has steadily deteriorated and yet has become more expensive. The latest salvo in the hike in prices is that of charging for directory assistance calls. This is rapacious.



Eileen Carron's Birthday


She is for The Tribune, the gift that keeps on coming. She is now eighty something and still has her petite and trim figure and an acid pen. She is Hubert Ingraham's mouthpiece in the media and to the world. She is the publisher and owner of The Tribune which has been going since 1903. One of her staff Paul Turnquest posted a birthday party picture of Eileen Carron with her son Robert at The Tribune. He posted it on his Facebook page Paul Turnquest on 13th March.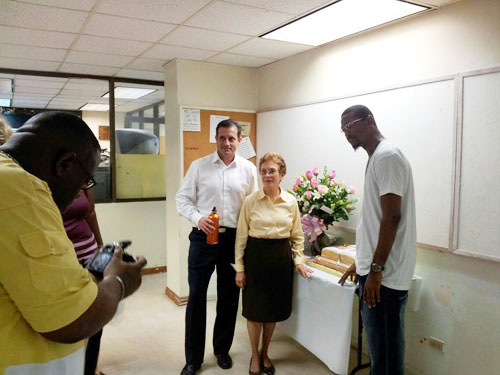 Ingraham: A History Of Violating Confidences

There is a Bahamian saying when someone talks too much and cannot keep confidences that they are not a deep freeze. Or some would say his mouth is like "parch benny". Benny are the sesame seeds that make up benny cakes in The Bahamas and when you are fixing the cakes they have to be heated and they pop and pop rapidly to indicate they are ready to go into the candy. So someone who talks a lot: well you get the picture. That is what people are saying about Hubert Ingraham. In attacking Allyson Gibson (see story above) and revealing what he says were private conversations with him, he revealed something about his character. Again: when you dig one grave, you dig two is a Bahamian saying. It reveals that this is a man who cannot be trusted to keep confidences. Mr. Ingraham has routinely revealed the private conversations between himself and Perry Christie as Leader of the Opposition to Prime Minister. He revealed private conversations between himself and Bahamian businessman Rupert Roberts. Last week Mr. Roberts responded in kind by revealing on Love 97 radio that Hubert Ingraham whose party is supported by white Bahamians in large numbers told Mr. Roberts: "A white man like you shouldn't be selling groceries over the hill." So it is really not a matter of trust with Hubert Ingraham. You cannot trust him to keep a confidence. People come to you as Prime Minister and say many things but they do not expect that their confidences will be betrayed by a man in such a senior office.


Chester Robards Hurt And Recovers

The Tribune reported that one of its senior reporters Chester Robards, the nephew of Justice Stephen Isaacs, was battered in an armed robbery at a traffic stop in Nassau last weekend at four in the morning. A bloodied Mr. Robards was shown on the front page with the alarming headline. Thankfully he was not more seriously hurt. Later in the week, the photo we show from his Facebook page demonstrated the ability to bounce back. The event revealed a more sensitive side to the robust Mr. Robards (who by the way is also a poet) who thanked all the well wishers for their thoughts for his recovery which we add here as well.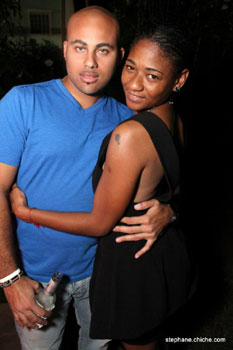 Glenys Hanna Martin On Charlie Maynard


Hiring Consultants And Giving Out Money

The sources inside the government are saying that the Hubert Ingraham administration is spending money like there is no tomorrow. Consultants are being hired in the public service at a record pace with contracts that the PLP will find difficult to break. The Bahamas Mortgage Corporation is now paying back mortgagors large cheques they say because the people have overpaid or were overcharged by the Corporation. FNM partisans are up and down Prince Charles Drive in New Providence asking business people if they have lost money during the road closures and how much they lost so they can be compensated before the general election.

The British government tabled legislation last year to provide for a fixed date for the next general election there. Perhaps now this country will do so, now that the mother country has found a way to do it. Our issue is that unlike Britain, we have a written constitution and so in order to do so we may have to amend the constitution to do so.

You may click here to view the act and click here to view the briefing paper of the British.


Jerome Sawyer To Leave ZNS

We are reliably informed that Jerome Sawyer, the television presenter and chat show host is to resign from the Broadcasting Corporation to take up a job in the private sector.

Michael Pintard At Brave Davis Cat Island Rally

There used to be an axiom in politics. Never show up at the other man;s meeting to help make up his crowd. That ws not one of the rules for Michael Pintard, the FNM Senator and lamb to the slaughter in the Cat Island, Rum Cay and San Salvador seat where the PLP's Deputy Leader Philip Davis is the incumbent. Mr. Pintard actually showed up at Mr. Davis' launch in Cat Island on Friday 16th March. Things that make you go : hmmmm!

They Have A Bad View Of The Bahamas

The piece shown from Australian TV shows the Bahamas as a particularly violent country. It is that. We agree. But Bahamians were despairing and wringing their hands at this video. Oh lord what are we going to do? There is despair at the obvious. It is not like this is new information. We have been a double society for at least two generations. We advertise and sell this place as a playground, a giant Disney World, but there is another star reality of poverty and degradation which we do our best to hide from the tourists. The fact is that dichotomy has always been there. Will we do something about it? Not if we re-elect Hubert Ingraham to office. But we present the video for you to view.
25th.March , 2012
Welcome to bahamasuncensored.com

How do you do today? It's great to have you as a reader. We have the most incisive political news about and from The Bahamas!

Please tell all your friends about us.


Interesting Places...
Click on a heading to go to that story; press ctrl + home to return to the top of the page.
---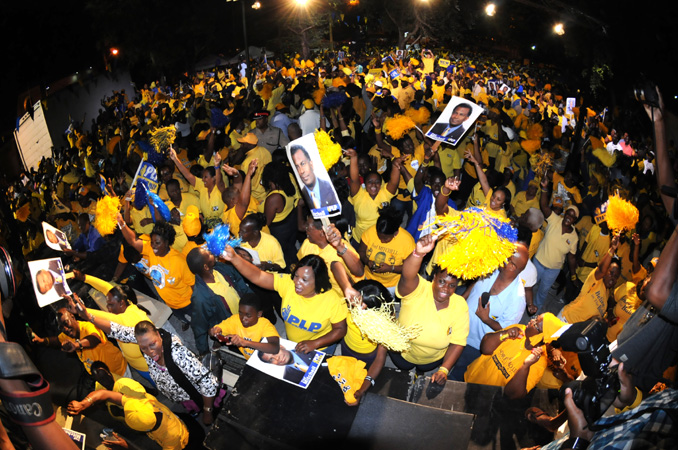 FRED MITCHELL WOWS THEM IN FOX HILL: The crowd was huge in the Village. There was great excitement. Fred Mitchell brought the PLP's leadership to Fox Hill. He is the incumbent MP. The PLP made the case for why the PLP ought to be government. Mr. Mitchell promised to work for the creation of 10,000 jobs within two years which are targeted at young people. The current unemployment rate is 34 per cent which means that one in three under the age of 25 is unemployed. Mr. Mitchell also pledged to work to increase the minimum wage now pegged at $150 per week up to $210 per week which is the minimum wage in the Bahamas government service. He also said that legislation ought to be passed to stop people's homes from being sold out from under them. The photo of the week is the rally in Fox Hill on Monday March and is by Peter Ramsay.
COMMENT OF THE WEEK

A STORY FOR EARL DEVEAUX

Earl Deveaux, the Minister of The Environment, has the reputation along with his colleague Desmond Bannister, the Minister of Education, of being amongst the most sanctimonious and holier than thou in the House. Behind that velvet glove is an insidious iron fist strategy. He was in full flight on Monday 19th March when he spoke in the House of Assembly on the Freedom of Information Act.

In the House he claimed that this site was amongst a number of others that attacked the character of public figures including himself unfairly. He claimed that while he could understand this as a public figure, his wife and family were off limits. Unfortunately not so Mr. Deveaux.

When Fred Mitchell MP Fox Hill responded that he and the other FNMs ought to stop whining about attacks on them and simply accept that this is part of public life ( see story below), Mr. Deveaux and Carl Bethel responded that his wife was off limits and that Mr. Mitchell could not understand what he was saying since he (Mr. Mitchell) did not have a wife.
Of course that demonstrated precisely the nastiness to which Mr. Deveaux goes while arguing and appearing to be all reasonableness and light just a few minutes before. When Mr. Mitchell told them that point of how they had just demonstrated the nastiness to which he was referring, they all responded that they were speaking the truth, Mr. Mitchell did not have a wife. Ha! Ha! Ha!

Well here's the proposition. Just because the FNM attacks someone what makes them think that there are rules that say one's family is off limits. The other person who is attacked has right to get you back any way they can.

In the case of Mr. Deveaux though, his wife B J. Deveaux is a public figure (See Sullivan vs. New York Times). She is married to a politician so that puts her in the public domain. She is has also on occasions spoken on his behalf at one public forum or the next defending his public record sometimes in all red dress. In the case of his children, legitimate questions have been raised about government scholarship issues granted to them. None of that was out of bounds and nothing from this site was personal in nature. All had to do with public issues.

The FNM wants to have their cake and eat it too on this issue last week as we predicted from this site Tommy Turnquest, the Minister of National Security, filed a law suit against Leslie Miller, the former Minister and the PLP's candidate for Tall Pines. What an asinine thing to do. He now brings his entire reputation into play and will soon suffer from the Oscar Wilde problem. Mr. Wilde got himself into worse trouble by responding to a provocative note about his sexuality by suing his accuser. He ended up going to jail for sodomy which was then a crime in 19th century England. So Mr. Turnquest who says that Mr. Miller has accused him of beating his wife should be very careful with this issue.

We say that anyone who is attacked has a right to attack back, and they should attack back in the best way they can. Dion Foulkes will learn this lesson after his attack on Fred Mitchell.

Number of hits for the week ending Saturday 24th March 2012 up to midnight:154,063
Number of hits for the month of March up to Saturday 24th March 2012 up to midnight:612,426
Number of hits for the year 2012 up to Saturday 24th March 2012 up to midnight:2,163,653



---
CONTACT US AT E-MAIL: placid_point@yahoo.com
| | |
| --- | --- |
| | |
On Friday 23rd March the hearing into challenges to voters on the register in North Andros continued before the revising officer Huntley Christie. The PLP's Philip Davis led the legal team and submitted that having regard to the fact that Hubert Ingraham broke the directive of the revising officer not to publish the names of any of those being challenged, the hearing had been prejudiced and should not continue. Mr. Christie turned aside the submission but the numbers of those being challenged are down from 30 to 17. The whole thing is spurious nonsense by an ever desperate Desmond Bannister who went scurrying from his Carmichael seat in Nassau to try to win North Andros. He is under great pressure there and has been lashing out in all directions. (See story below In Passing on the biggest box in the world we ever saw.) The PLP attacked Hubert Ingraham in a statement about the issue. The statement follows. Mr. Ingraham claims that he has two homes one in North Abaco and one in Nassau and he claims he lives in Nassau. He says that he and the voter who he outed are in similar circumstances and that the voter should vote where he lives. The trouble is that voter voted for the FNM in the same circumstances on three different occasions in North Andros. Now that he is a PLP supporter suddenly something is wrong with it. Further, Mr. Ingraham's own Minister of State Zhivargo Laing in a court action argued that he lives in Freeport even though he is a full time Minister of the government and therefore must be living in Nassau. But Mr. Ingraham is not one for truth or consistency. He is a serial prevaricator.

Statement
Progressive Liberal Party
March 21, 2012
FOR IMMEDIATE RELEASE
ESCALATING EFFORTS TO INTIMIDATE VOTERS,
INGRAHAM VIOLATES RULING ON PRIVACY

Speaking from the stage at an FNM political rally, Prime Minister Hubert Ingraham called the name of a voter he said was registered in the wrong place.

The case involves a voter who maintains two different residences in two different constituencies. Section 9 of the Parliamentary Elections (Amendment) Act 2011 allows voters in such a position to choose the constituency in which they would register. The matter concerning this particular voter is under adjudication, and the Returning Officer in North Andros presiding over the matter has ordered that his name be kept secret.

In shouting the name of this voter from the platform during a political rally, the Prime Minister violated the ruling of the Returning Officer, hitting a new low.

The Prime Minister is well-known for bullying his own candidates and MPs, and well known for attempting to bull-doze those who disagree with him.

Ingraham now attempts to act as judge and jury on an issue -- in a blatant attempt to influence the decision-maker and the Parliamentary Commissioner, letting them know very publicly the outcome he is demanding, even though such an outcome appears to have no support from the law.

In North Andros, the Prime Minister and the FNM Ministers doing his bidding have turned things into a circus, harming the small community; the Returning Officer has referred to the process as "divisive".

The possible use of the police force to investigate political opponents, the hyped-up charges of violence and voter fraud, and now the singling out of a voter by name -- the FNM is running an intimidation operation– and they've invited the international observers, who will arrive late in the day and with a tiny team, for cover.

Note that the voter called by name by the Prime Minister has always had the same circumstances of residence – and while he was an FNM supporter, Hubert Ingraham was happy to have him vote in North Andros. But now that he intends to vote for the PLP, the Prime Minister is going after him personally, in a rally broadcast to the nation.

The Prime Minister behaves like a dictator and a bully.

The PLP again calls for free and fair elections, and a process free from interference by the Prime Minister himself. The Parliamentary Commissioner should be allowed to do his job and produce a clean voters' register.




HOW BAHAMASUNCENSORED GOT STARTED

This column was the subject of a nonsensical attack by FNM Minister Earl Deveaux on 19th March in the House of Assembly. We have repeatedly said to FNM partisans, if they do not like what is on this site, there is nothing which compels them to read it. Simply don't press the button and you don't have to know what is on it. There is nothing libelous on this site. Never has been and never will be. What we do is print sharp commentary and an insightful analysis of the politics of The Bahamas. Who doesn't like it can lump it? We find the whining of FNM politicians on this issue of websites to be sanctimonious and hypocritical, when they engage in the most nasty and vicious campaigning in the history of the country. They expect the PLP to simply sit back and say nothing about it. Not on their lives. The column was started in 1998 as fredmitchellucensored.com. Niki Kelly, the journalist, raised some hell about this and the change was made to bahamasucnensored.com. Her objection was silly but there you have it. The PLP folded on the issue instead of standing its ground. But the column was started because the press would not publish the commentary of Fred Mitchell. This is a mechanism then to protect Mr. Mitchell's interest and that of the PLP. It is purely defensive. If the FNM will fold then we will fold for these purposes. It has a good readership, loyal readership. We must be doing something right. So Mr. Deveaux as your leader likes to say: too bad too sad for you. And no one is off limits when it comes to public policy.



LESLIE MILLER RESPONDS TO TOMMY TURNQUEST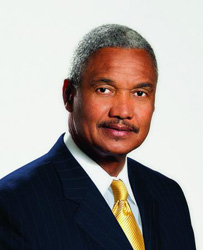 Leslie Miller, the PLP's candidate for Tall Pines, was sued by Tommy Turnquest, the Minister of National Security last week saying in the writ that at a political rally Mr. Miller made allegations about Mr. Turnquest beating his wife. Mr. Miller spoke to the press about it on 21st March and here is what he had to say in his own words. The interview appeared in The Tribune on 21st March. The story was written by Dana Smith:

"I never called his wife's name nor did I call Tommy Turnquest's name in relation to any beating of wives, so if he chooses to cry foul when he was the one that initiated the fight - I find it so incredible and so petty.
.
"I got served yesterday... it's a joke, really, because what happens now when Mr. Keith Bell and the other persons in our party, including myself now, join each other and bring a suit against him. He can't believe that he's just going to come with his suit and we're not going to counter-sue him.
"I got so much more things to do in my life right now than fool around with Tommy Turnquest and his little frivolous lawsuits.
"This guy who initiated this whole foolishness is running to the courts to talk foolishness around people there? Please. He got nothing else to do? When the crime is at an all time high? When neighbours are being murdered every day? When we are being threatened? Now by the United States government that they put out a warning to their citizens to be careful. He's concerned about a lawsuit instead of looking at the governance of our country?
"It is his right as a citizen to do whatever he wants to do, it is our right too, to do what is necessary to counteract what he would have done. He brought a lawsuit, we will bring a lawsuit. But is that really what is in the minds of average Bahamians today?"
TURNQUEST'S SILLY RESPONSE ON TV PROGRAMME



| | |
| --- | --- |
| | |
Last week we showed the Australian TV programme which portrayed The Bahamas and crime. It first appeared in Australia on 13th March. The reporter condemned us with our own words with one Bahamian after the next saying what a terrible experience it was being in The Bahamas because of crime. We commented last week that we could have written the same thing about Miami or New York. Some elements in The Bahamas were full of indignation about it.

Unusually enough the Minister of National Security Tommy Turnquest who was busy showing off in the TV piece saying how there was a war going on and supporting generally the thrust of the piece, was among the indignant. Remarkably last week on 19th March, Mr. Turnquest called for an apology from the TV journalist who wrote the piece saying that the programme misrepresented The Bahamas. What a twit! The question is:

what were you Tommy Turnquest doing being interviewed in the first place? The one who needs to apologize is Tommy Turnquest and then he needs to resign. But then as the people are saying about the FNM: it aint long now. The piece was done by Australian journalist Nick Lazaredes.




MITCHELL IN HIS OWN WORDS ON FREEDOM OF INFO



We carry here the report of the address of Fred Mitchell in the House of Assembly on Monday 19th March on the Freedom of Information Act. The report shows the response of Fred Mitchell to what he called the whining by Earl Deveaux, the Minister of the Environment about personal attacks on himself and his family (see the Comment Of The Week). The photos of Mr. Mitchell in the House were taken by Peter Ramsay of the Bahamas Information Services. The story appeared in The Tribune 20th March and is written by Celeste Nixon:

PERSONAL attacks are part of public life and MPs should not be too sensitive, Fox Hill MP Fred Mitchell said.
Responding to Marathon MP Earl Deveaux's contribution to the debate on the Freedom of Information Act yesterday, Mr. Mitchell said that having been in public life for 20 years, he has been subjected to all manner of "vile, vicious, political attacks", and takes the criticism as part of the job - choosing not to "whine" about it.
He said: "I have always taken it to be that you are in the public domain, and I don't whine about being attacked publicly. I have a voice and in a democracy I simply use all the voices I have to defend myself.
"It is in my view an occupational hazard of being a public figure in the Bahamas or any other western country."
While supporting the Bill as an effort to deepen the country's democracy, Mr. Deveaux lamented the use of the media to spread propaganda and publicly attack government officials and in some cases their relatives.
He said: "The outright attempts at character and political assassination, which have come to be commonplace in our political discourse, are a danger to our way of life."

But Mr. Mitchell pointed out that the media is not the only place where personal attacks are launched.
He said it is hard to remain civil in Parliament while the Free National Movement is engaged in the "nastiest campaign in our political history".
He said: "They make allegations of fraud, vote buying and violence, all of which I am satisfied they know to be nonsense, but doing so for purely political reasons and then expect us to come here and be civil in the House of Assembly."
Mr. Mitchell said he supports a Freedom of Information Act but urged the government to follow through and enforce the legislation.
"I hear what you say about the philosophy of the freedom of information, but if you talk the talk, you need to walk the walk," he said.



A LESSON FOR CARL BETHEL ON VISAS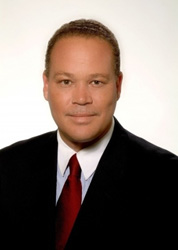 Carl Bethel, the Chair of the FNM, was trying again to raise the matter of Chinese visas that he claimed were issued at the instance of former Foreign Minister Fred Mitchell. He was speaking in the House of Assembly when Mr. Mitchell interrupted him to remind him that the matter was sub judice because an action had been taken in the courts. Mr. Bethel objected to Mr. Mitchell suing a public servant and not suing him (Mr. Bethel) when the matters were first brought to light by Mr. Bethel. He said he could not understand how an allegation about Chinese visas was converted into an allegation against the accuser by saying that she issued Haitian visas. We thought that Mr. Bethel knew better and he does but politics will cause you to say and do stupid things. It has to do with credit and believability.
The public servant simply made up the allegations because she was in fact alleged to be involved in a scam. Mr. Bethel of course has the same credibility problem since he in fact wrote his colleague Minister of Foreign Affairs Janet Bostwick to ask for visas for one of the same people alleged to be involved ins selling and buying Haitian visas. He has no credibility on the issue either. The exchange took place on Monday 19th March.





AUDREY ROBERTS ON THE USE OF PAPA


Audrey Roberts is a consultant in Human Resources and comments on the web on matters of public interest, we wanted to share this comment she wrote about the use of the term "Papa" by Hubert Ingraham, the Prime Minister to describe himself. The term originated in the 2007 campaign to help fool Bahamians that Mr. Ingraham had lost his nasty and spiteful ways. Mr. Ingraham said he was a grandfather so this meant he was a changed man. He said that his grandchildren called him "Papa".

Its amazing to me that in the 2nd decade of the 21st century in the Bahamas the leader of the governing party would term himself as "Papa" and civil society just lets it be. Are we serious?
The connotations of "Papa" are offensive: think 1950's Haiti and Papa Doc, think paternalistic, think patronizing, think dependency and control, think reductionist. Is it that as members of civil society we do think these thoughts, but we'd rather leave the leader of the governing party to believe that he is wearing new clothes, when in fact we see that he is naked?
And just how do members of that party seeking a return to office reconcile the concept of Papa with modern leadership in which they themselves are managing portfolios that seek to advance issues such as gender equality and social justice? More importantly, how do we as members of civil society feel about these huge contradictions or are we just as schizoid as those political candidates who would uphold as obnoxious a concept of leader as Papa on the one hand and claim to be proponents of good governance and empowerment of people on the other?
Frankly, I believe we are on a very slippery slope here. Bad enough that we demand so little of political leaders of any of the contending parties in that we accept that they each spew only variations on the same theme... but to be able to make room in our political discourse for as offensive a notion as Papa is, in my view, dangerous.
I urge those of you reading this who share my views to seek means of bringing this into public discussion.
Life More Abundant!
Audrey Ingram Roberts

PHOTO SPREAD SOUTH ANDROS OPENING


Led by the PLPs Perry Christie, the PLP's road show travelled to South Andros and the Bluff settlement to hold a public rally in support of Picewell Forbes, the PLP's candidate for South Andros on Thursday 22nd March. Mr. Forbes faces three opponents including two former MPs for the area. The crowd was full and enthusiastic. The photos are from the PLP's Facebook page.




Dion Smith, the PLP's candidate for Nassau Village, launched his campaign formally on Saturday 24th March. The launch was led by PLP's Leader Perry G Christie. The photo is from the PLP's facebook page.


THE FOX HILL RALLY IN PHOTOS





This photo spread of the Fox Hill Gold Rush Rally was shot by Peter Ramsay on Monday 19th March at the Fox Hill parade. Leader of the PLP Perry Christie led a delegation of PLPs to speak at the event.


THE PLP'S LATEST AD

HUBERT'S NEW AD

The FNM has been seeking to find a way to respond to the PLP's policy positions on crime and the economy. This is their response:



This poem was circulated by James Catalyn, the Bahamian author. The author of the poem is not known but we thought it was interesting enough to share it with you. It's a good message for the Free National Movement and Hubert Ingraham, the Prime Minister.


When a bird is alive...it eats ants.
When the bird is dead...ants eat the bird!
Time and circumstances can change at any time...
Don't devalue or hurt anyone in life.
You may be powerful today...but remember,
Time is more powerful than you!!
One tree makes a million match sticks...
But when the time comes...
Only one match stick is needed to burn a million trees.
So be good and do good.
Remember, when powerful, be merciful!
For that Power can be taken away
at a blink of an eye!


PLP SURGES BY STALWART B FROM FREEPORT


PLP SURGES WHILE FNM FLOUNDERS

The PLP support on Grand Bahama has surged and was this more visible at a rally held on the old Portion Control grounds in downtown Freeport, March 17th, 2012. Thousands of enthusiastic supporters turned out fully regaled in yellow. The rally as in support of Dr. Michael Darville, the PLP candidate for Pineridge and Julian Russell, the PLP candidate for Central Grand Bahama. Even the PLP's party leader was visibly surprised by the large numbers and the enthusiastic support shown to him. This was in sharp contrast to the FNM candidate for Central Grand Bahama, Neko Grant and Pakeisha Edgecombe, the FNM candidate for West Grand Bahama.
Before the name change, Central Grand Bahama was headed by Neko Grant. He called his team, Team Lucaya. Over the past five years Neko has been a slothful shepherd of his flock. Many of his team members has left the fold while others has become disenchanted, disillusioned with his representation of his Lucaya constituency. So it was no surprise on Monday morning when we saw buried on page three (3) of the Freeport News the Minister taking a photo-op of his Headquarters opening. This was because the many constituents of that area did not want to see him; therefore, he had a soft opening.
Other constituents, we are told, are waiting to verbally abuse him for his lack of attention to Grand Bahama.
The once fortified stronghold of the FNM, The High Rock branch, now known as East Grand Bahama was left in disarray after the firing of Ken Russell.
Prime Minister Huber Ingraham told the High Rock FNMs to give him two names as replacement candidate for Mr. Russell. The branch then caucused and the names of Michael Pintard and Freddie McAlpine were put forth from the branch. Prime Minister Ingraham promptly rejected both names and put forth the name of Peter Turnquest as the replacement for Ken Russell. One person alone stood and said this was not right. We are informed that it was a Mr. Pinnock, but he was not supported by the branch as they were afraid to register their approval.
Last night, the fallout from this decision became clear. In what was supposed to have been an East Grand Bahama watch party in the parking lot at the Seahorse Plaza. The stalls were all fully stocked, the stage with the big television screen was mounted; all that was required were enthusiastic supporters. At 9:30 p.m., it became clear that the people were not going to support the event.
The business community formed a strong voting block in the High Rock Constituency. They have become disenchanted because of the constant fight with the Customs department. They also see the reckless handling by Prime Minister Ingraham of the HannesBabak Port Authority has caused potential investors to lose confidence in his administration.
Stalwart B




LETTERS TO THE EDITOR
Forrester Carroll writes from Freeport about the FNM candidate Norris Bain. In a scorching commentary, Mr. Carroll suggests that Mr. Brian was duplicitous in pursing the PLP's nomination for parliament and then went to the FNM to seek better terms. He accuses him of being unprincipled and much more.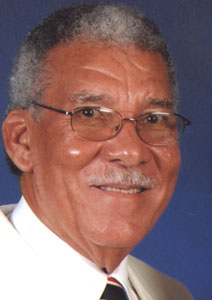 Forgive me folks, but I had planned on not being bothered, again, with that pitiful excuse of a man (the hack) called Norris Bain; however recent revelations, regarding Bain's, seemingly, passionate pursuit of the PLP's nomination, for the East Grand Bahama constituency, have come to my attention which leaves me no choice but to revisit the matter and expose the snake for what he really is; a damn dangerous rattle snake, just like his "Papa "Doc" Clown" prime minister. So I am obliged to reveal what I've been told so that Marco City's voters will know, before they vote, exactly what kind of a conniving, sneaky, no-damn-good bastard of a person this would-be MP happens to be.

Two persons who claim to have been eye witnesses, to all the dialogue and events (from start to finish) culminating in Norris' approval by the PLP's candidates committee and then his eventual ratification by the PLP's NGC which I am about to reveal, told me that they have in their possession a six to eight-month reservoir of information, on both Norris Bain and Peter Turnquest. The information allegedly includes tape recorded conversations and other printed material. I shall not deal with the information they claim to have on Peter (in this writing) but Norris Bain, who has the audacity to go around Freeport boldly and consistently denying that he ever pursued a PLP nomination, will get it from me today and will eventually pay for his lies when the good people of Marco City (who have been abused by Zhivargo Laing and the FNM for five long years) discover exactly what kind of a fowl snake bastard this sucker is and reject him at the polls.

The two witnesses told me that Bain (with their assistance) arranged a meeting, with the PLP's leader, indicating that the purpose, for which he wanted to meet with the PLP's leader, was to discuss the possibility of him (Bain) getting the PLP's East Grand Bahama Constituency (High Rock Constituency at the time) nomination. Christie acceded to the snake's request and promised that he would accommodate the schemer at his home on the Cable Beach strip.

Accompanied by the two alleged eye witnesses, the three travelled to Nassau, allegedly, to meet with Mr. Perry Gladstone Christie. On arrival, at the airport, they were met by the Opposition Leader's private security and immediately whisked away to their scheduled luncheon meeting. The PLP leader, they told me, was so immensely gracious a host that Bain actually broke down and cried (like a baby) admitting that he was guilty, in the past, of believing Ingraham's propaganda about Mr. Christie but felt now (after experiencing Christie's graciousness) that it was just that; unjustified political propaganda. He could not believe that the Christie, he was presently in meeting with, was the same person Ingraham and other FNM Operatives continue to bad mouth with all those horrible things. The eye witnesses reported that Bain claimed he was brought to tears when he found out that the PLP's leader was not the indecisive, weak and none responsive individual Ingraham portrayed him to be (all these years) and that he found the Christie to be very strong in his opinions, decisive and a very gracious host; his crocodile tears, he said, flowed naturally as a result.

On Norris' second trip to the capitol he met with the PLP's national chairman, along with an individual he claimed was his spiritual advisor. He was so elated with the positive outcome, of the meeting, that goose bumps, he said, sprung up all over his body and the feeling gave him the assurance that it could only have been God the Father confirming to him that he was on the right track. At the conclusion of this meeting the Leader had his own driver escort Norris and his party (including the two eye witnesses) back to their respective hotels. They were to prepare themselves for a scheduled appearance, at one of the recent PLP regional conclaves, where Bain had planned on appearing on stage with the PLP leadership. This was to signal (finally after eight months of meeting and talking back and forth) his alignment with the PLP and allay all other speculation to the contrary. On their way to the hotel, however, the assistant pastor suddenly claimed that his left leg had given way on him and that he felt a degree of paralysis; he wanted to be taken to the hospital. The leader (PLP) was notified and immediately gave instructions that he be taken to PMH. When they arrived they found a line as long as a mile, at the emergency section; Christie was informed and amended instructions were given to divert, immediately, to Doctor's hospital instead and that all medical bills were to be charged to his (Christie's) personal account. The PLP leader, not wanting to take any chances, requested that the best care possible be rendered and as a back-up measure he personally telephoned Dr. Perry Gomez and asked him to attend and render assistance as well. Norris Bain (it is alleged) was well cared for and I am told that the total bill amounted to nearly $5000, paid for by Perry Gladstone Christie (and Christie did not give me this information-the alleged eye witnesses did). I was not one of those who witnessed all these events but was told them by the two persons who claimed they were on the spot and who continue to claim, as well, to have in their possession (allegedly) tape-recorded conversations and other minute notes to substantiate their claim. If all this is true, I could only conclude that Norris Bain, (the FNM candidate for Marco City) is one sorry fellow. I won't deal with the Peter Turnquest's alleged episodes and interviews with the Leader (and others) of the PLP regarding his pursuit of a nomination for the Progressive Liberal Party; my reason being one which I care not to divulge at this time. I can say, though, that the report I've been given is that in conversations, with the PLP hierarchy during those talks, Peter was not very kind to Hubert Alexander Ingraham and most unkind to the eight (five MPs and three Senators) FNM Parliamentarians for Grand Bahama; that though is story for another time; I have all the facts however (and Peter knows that I have them) so don't dare challenge me Cuz.

When one considers all that Perry Christie did (in going the extra five miles) in an effort to accommodate Norris Bain's pre-requisite conditions, for his nomination on the party's (PLP) ticket, it would make one want to throw up (vomit) when considering how Bain handled the whole affair. The assistant pastor, of Tabernacle Baptist Church on east settler's way Grand Bahama, is truly a scum of a low-life animal. He is not fit to be put in positions, where he influences people, especially around the youth of the nation. He is the headmaster of one of the nation's most prestigious schools for lord's sake; he is supposed to be teaching our children attributes like, "honesty is the best policy" and "do unto others as you would have them do unto you," not teaching them (by his example) to be dishonest and untrustworthy. It seems that after getting the PLP to commit to a certain alleged package of financial pre-conditions, he was then able to go to the FNM and say to them, "See if you want me, you had better come up with a better deal than the PLP offered me;" Ingraham then (being the dog-in-the-manger that he is) would have fallen for his blackmailing tactics (hook line and sinker) and would have given in to Bain's demands. The piss-head (I mean Ingraham this time) relishes when he is able (he thinks) to get one up on Christie but am afraid, this time, he got out smarted for he bought himself a dirty, nasty, rotten "pig-in-the-bag" with all the mud trimmings.

What pisses me off, royally though is when this lousy, no-good, unprincipled dog goes around Freeport denying that he ever pursued Christie for the PLP nomination (which, by the way, was given to him); the thought surely makes me sick to my stomach. This is the same assistant pastor (mind you) who gets up, Sunday after Sunday (and I guess on some week nights as well) telling congregations how they should live their lives above reproach and to avoid the sins of lying, backbiting and greed. The guy is nothing more than a money hungry, lying, and political prostitute. I am told that he spoke candidly to the owner of a Liquor store, located in the Seahorse Plaza area, one afternoon about his political aspirations and did not hesitate to tell the liquor merchant that (for his troubles) he expects to be given the ministry of youth sports and community affairs, should the FNM win government next election. If I were you, sucker, I wouldn't hold my breath. It is alleged that Bain received enough "blood money" (in his traitor's package) from Hubert Ingraham that would enable him to pay off all his outstanding debts and with enough left over for rainy days which may come his way.

Before I leave this Negro alone (for real) this time, I really would like to put a few questions to the bastard and see if he has the guts to answer them truthfully; following are my questions;

1) Did you (Norris Bain) not opine to a City of Freeport Council member that one of the many reasons you wanted a PLP nomination was because you were pissed off at the bad treatment Grand Bahama received, during five terrible lean years under lousy FNM representation; and didn't you accuse Neko Grant, Zhivargo Laing, Kwasi Thompson and Kenneth Russell of being the laziest, scariest, most unsuccessful MPs and worst five stooges for dictator Ingraham you ever met?

2) Did you not tell the same City of Freeport Councilor (Norris Bain) that if Zhivargo Laing, and the others, had any guts they would have threatened Ingraham, a long time ago, with crossing the floor in parliament and thus causing the FNM government to collapse? Didn't you tell them that if the FNM MPs had any backbone whatsoever they would have dictated their terms for Grand Bahama but instead they remained mute while Ingraham destroyed this Island?

3) Did you not tell the Councilor, in the presence of your cousin, that you heard from God, on this matter, and that God told you that you should run for office on the PLP ticket and that God the Father stipulated, specifically that you should pursue the East Grand Bahama constituency? And further did you not tell them that God assured you that the PLP will win in the next election? Did you not tell him that Norris Bain or are the two witnesses lying?

4) Did you not tell your cousin that there were some house-cleaning matters, around the school, that you had to take care of before accepting the PLP nomination (if it happened) because (as you said) Hubert Ingraham is a spiteful man and that you wouldn't want him to victimize your father-in-law's school? When asked what were those concerns did you not tell your cousin, in the presence of the City of Freeport Councilor, that your school was in debt to the National Insurance Board for an amount in excess of $100,000.00 for which they had already sent you a "Demand Letter?"

5) Did you not tell them that, in addition to securing you another job (because you didn't want to continue working at the school if you were a candidate for any of the political parties), your wife insisted that both you and she be fully insured for both life and health insurance; and did the two not assure you of the same?
6) Did you not tell them, as well, that Desmond Bannister had promised you a scholarship for your daughter but as soon as the word got out that you were in talks with the PLP for a nomination that he stopped taking your calls and never returned any of the messages you left for him?

7) Did you not tell them that one of your wife's pre-requisite conditions for supporting your candidacy, for any of the political parties, was that the party would have to deposit at least six (6) months of advance mortgage payments in yours and her bank account?

8) When your cousin told you, in the presence of the City of Freeport Councilor, that your demands constituted a very tall order, did you not tell them that you had consulted your good friend Lindy Russell who told you that your demands were achievable because prior to his first run for the FNM (in 1997) that Ingraham gave him all the money he requested and told him; "now go and win the seat?"

9) Did you not tell them, as well, that you spoke with Zhivargo Laing who advised you not to get involved in the game because it's dirty and that there are some things that you will be asked to do at times which are not so clean, especially if you keep company with the piss-head Hubert Ingraham? Did you not tell my informers that Zhivargo Laing told you those things?

Now Mr. Norris Bain, I am the lawyer on this case and lawyers don't usually ask questions to which they do not, already, have the answers. So, like a good lawyer, I ask the above nine questions merely to see if you are going to answer me truthfully. Right now the FNM must know (and are no doubt regretting the fact) that they have made a horrible mistake nominating the likes of you. The PLP, on the other hand-well we are comforted in the fact that "what the Devil meant for evil, God has turned it around for our (PLP) good," this is a quote from the inspired Word of God, preacher.

And you, (Peter Turnquest), I told you already that we have the facts on your PLP nomination pursuits as well (you know we do)-alleged recorded conversations and all. I am quite sure that, being the man of "letters" that you are, you would give us some credit for being at smart enough to hedge our bets (against the day when you may have gotten cold feet, as you have, on us) and so certain pre-cautions were taken, by those you engaged, to that effect. Like I said earlier, due to certain family constraints, I choose not to be the one to advance the information we have in hand; information which would prove conclusively (allegedly) that you (like Norris Bain) diligently sought after the PLP nomination for the East Grand Bahama constituency and (like Norris Bain) you were very critical of Hubert Ingraham and his government's last five years in office, as well. We have others who are anxious to expose you (Peter) but will wait for the right time Cuz; you are playing in the big leagues now my brother; this is not Chamber of Commerce business and my advice to you would be to get wise and consider (very early in the game and well before nomination day) abandoning your political pursuits to avoid being exposed. I can assure you that the two persons (and you know who they are) who can do the most damage to your stellar public persona are patiently waiting for the word (to come down to them) to release the alleged recordings and other information. All those nasty things you allegedly said about that no-good, boxfish head prime minister of yours will be exposed in due course and am quite sure that the piss-head is very curious to know what you were saying about him behind his back; it's nothing personal Cuz; just politics, remember? You might consider dropping out of the race (like your colleague candidate for South Eleuthera is about to do) and save yourself the embarrassment of having to account for your wild vitriolic sentiments about your so-called Papa "Doc" Clown leader.
Thank you.
Forrester J Carroll J.P
Freeport, Grand Bahama
March 2012.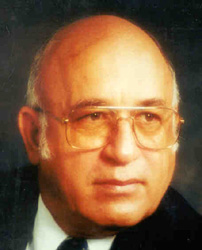 Former MP Pierre Dupuch writes about the quirks of democracy and the role that the state, the family and the citizen must play in building democracy and a better country:
By Pierre V.L. Dupuch

March 19, 2012
Wake up Bahamians - Take Back Your Country!
Sometime before Christmas a map showing the proposed new boundaries was published which showed drastic changes in the Constituency boundaries. I called it gerrymandering at its worst, a blow to the democratic system.
I maintained, among other things, that gerrymandering made it impossible for people to get to know the candidates, or candidates to know the people. Furthermore, it lent itself to enabling votes to be "packed" into areas in order to sway an election.
Mr. Rick Lowe, in a response to my comments, suggested that had I, and others, supported the proposed Constitutional Amendment that proposed an "independent" boundaries commission to draw election boundaries, we would not have the problem of "gerrymandering."
The proposed change that Mr. Lowe referred to was included in the FNM's controversial referendum that was rejected by the Bahamian people.
I said that I had not supported the change because, among other things, it was an up or down vote ... in other words, all or nothing.
He said I was wrong; it was an item-by-item vote. I told him I would check with the House of Assembly, which I did. He was right. It was an item-by-item vote. I was wrong. I apologize.
Whether or not it was an up-or-down vote, or, an item-by-item vote, is really irrelevant.
But let's assume the Constitutional changes proposed in the Referendum had been accepted by the people of The Bahamas, and that there was an "independent" boundaries commission.
This, on the surface, sounds great. But may I be so pertinent as to ask who would appoint it? The Prime Minister? Would this not be reverting to whistling by the graveside?
Laws, especially changes in the Constitution, are made to last for a long time, and to apply to many people. If we had made such a change, could we predict that years from now a Prime Minister, he or she, would not appoint all of his/her friends or supporters to this so-called "independent" boundaries commission and claim it to be "independent?"
Sometimes laws are not sufficient to solve a problem. It reverts to the people. Politicians get into power by getting votes. If they believe doing something would lose them votes, they wouldn't do it. Yes, the people can do something about it. If they insist on having time to know who is running in their district, they will be given time and, if they're not given the time then the people should vote them out ... whoever they are. Don't worry; the message will quickly get through their thick skulls.
And what is democracy? It's all to do with making choices. And how does that happen? It's the environment, the society in which we live. It involves the whole being. And this involves the family, the church, the schools, and the media.
The family is supposed to teach the child the "principles" of life; the church is supposed to teach the child the ethics of life, the rights and wrongs of life; the schools are supposed to teach their students how to think and the logic of making choices. All of these combined creates the "whole" person.
The rest of the job rests with the media. Having created the "whole person" the media takes over. Its job now is to present the facts ... untwisted, un-spun facts ... to the person who then has the job of looking at the facts and making choices. And that is the essence of democracy!!
And finally, the Government should see that nothing is put in the way of all this happening.
Have all or any of those institutions failed our people here in the Bahamas??
But, of course, in the absence of democracy we could have "mobocracy." And that's when you keep the people stupid, tell them what you want them to hear, throw a pom pom in their hands, throw in a goat skin drum for good measure, get them real emotional, then put a political tag around a dead dog's neck and throw that their way and then tell them to be "democratic" and vote!!!
Folks, you make the choice. What category do you want us to fit into?
It's sad, isn't it? We could have such a great little country.
--30—


Tommy Takes Objection

Tommy Turnquest, the Minister of National Security got up in the House to challenge Fred Mitchell MP on Monday 19th March when Mr. Mitchell said that Dion Foulkes had put enmity between his house and that of Mr. Foulkes. Mr. Turnquest in seeking to defend Mr. Foulkes said that Mr. Mitchell needed to clarify the language because Mr. Foulkes took it as a threat. He demanded an explanation of Mr. Mitchell through the Speaker of the House. Mr. Mitchell brushed it aside telling Mr. Turnquest not to bother him with foolishness; that they were ordinary English words and the meaning was quite clear.


Checking On FNMs In Freeport

The word is that Hubert Ingraham has sent his emissaries out into the land to determine who is still with him and who isn't. Recently a lunch was held supported by a high profile female FNM lieutenant of Mr. Ingraham to ask one FNM supporter why he has not been coming around. The friend reminded the emissaries how the medical bills are piling up and how another FNM supporter died in penury of prostate cancer and got no help from the man Hubert Ingraham for whom he had done so much for. Nuff said.


The Wig Is Gone For Lawyers

In a little publicized practice direction by the Chief Justice Sir Michael Barnett, the wigs that Bahamian lawyers have been wearing in court, has seen the beginning of the end. Sir Michael said that as of the 13th March, the wig is only necessary in court for ceremonial occasions. He said that on other occasions in open court the gown, the barrister's tabs and the formal shirt will be required but no more wig. We don't understand why the whole thing was not done away with, but it's a good start. You will need a dark suit however as well.

Bran McCartney Trips Himself Up

Branville McCartney, the man who would be our Prime Minister, tripped himself up with the women last week when during a talk show interview he said that he would not support the marital rape law which was tabled then shelved by the FNM last year in the face of popular disapproval. It is however a hot button priority for women of a certain education and class level. The response was immediate with Loretta Butler Turner, the Minister who was sponsoring the bill said that he would pay a price at the poll for not supporting the bill. Mr. McCartney issued statement the next day saying that while he personally does not approve of the bill, the matter would be put to a referendum. Now that's what you called backpedalling. Backstroke!


Dion Foulkes Calling Government Workers To Campaign

Sources tell us that Dion Foulkes, the FNM's candidate for Yamacraw and the Minister of Labour is busy calling up people on the government's special work programme and asking them to campaign for him in the constituency. Desperation! That's what it is.

Neko Secretly Opens His HQ

They say that it was done like a thief in the night, the opening of the headquarters of the Minister of Works and twenty year incumbent Neko Grant, the FNM's candidate for Central Grand Bahama. The FNM is running a carefully choreographed campaign in Freeport because the numbers are so dispiriting. There was no big opening just a small blessing and then sneaking away into the night
.

Shonel At The Meeting

At a meeting in Fox Hill of one of the constituency neighbourhood watches, the FNM's candidate Shonel Ferguson was questioned by the neighbours about herself. They asked whether she was married. Her reply was that she was single "just like Fred". Things that make you go "Hmmm!"

FNM Launch In Fox Hill

The FNM is set to launch formally the campaign of their candidate in Fox Hill former athlete Shonel Ferguson on Friday 30th March.

FNM Will Lose All Seats In GBI

The word on the streets is that in the latest poll, the FNM is ten points behind the PLP in Freeport. At this rate, the FNM is set to lose every seat in Grand Bahama at the next general election.

Kay Smith Now Queen Of The Campaign

They say that the humiliation of Carl Bethel as the Chairman of the FNM is now complete. Mr. Bethel who was demoted from being Minister of Education to be the Chairman of the FNM following the debacle of the sexual molester scandal at the Grand Bahama schools, has now learned that as Chairman during the campaign he must report to Kay Forbes Smith the former Consul General. He is livid. His friends say that secretly he hopes that the FNM loses; he is unenthusiastic about the campaign and they hope that Hubert Ingraham and the FNM loses as revenge for the humiliation of Mr. Bethel. By the way, this reporting to Kay Forbes Smith is also said to apply to Earl Deveaux who is nominally in charge of the campaign but with Mrs. Forbes Smith having the ear of the king it turns out that he is head of the campaign in name only.


What Did Fred Mitchell Really Say?

What a country? All the matters of substance spoken at the Fox Hill Rally on Monday last 19th March, the thing that most captured the imagination was a salacious joke by Fred Mitchell MP in response to comments made by Loretta Butler Turner when introducing his opponent Shonel Ferguson for the FNM. She described Ms. Ferguson as the "real woman" running in Fox Hill. Mr. Mitchell in a throwaway line in his address said that he did not realize that the gender of Shonel Ferguson was an issue in the campaign. He said that he was satisfied that this was a back handed attempt to question his own gender. He added, he checked himself every morning and he wanted to announce that he has the tool for the job and he didn't mean a wrench either. The crowd roared with approval. During the week, the talk shows, The Punch and the gossip on the streets were preoccupied not with ten thousand jobs that he said he would work to create but with what did he mean about "tool for the job". Whatever could he mean?


FNM Seeking To Bribe Business People Over The Roads

The election bribery attempt by the Free National Movement is going full speed ahead. The Prime Minister Hubert Ingraham announced in the House of Assembly that teams from the Ministry of Finance will be going out to do surveys to determine what was lost by various businesses during the closure of the roads. This is a last minute conversion of the Prime Minister who forced business people on Blue Hill Road to go to court , opposed them at the Court of Appeal stage and forced them to go to the Privy Council to get compensation, now as elections have come near he is announcing this scheme to pay compensation. The forms are said to be complicated and demand facts and figures from as far back as 2009. In a culture where there is no income tax hardly any small business will be able to provide the information we think.


The Minister And The Biggest Box In The World He Ever Saw
K.B. ( Kirk Bodie) sings about the biggest box in the world he ever saw. It is a song about people lining up at Bahamasair's counter in Miami seeking to get big boxes on the plane. Well a minister of the government has some "splaining" to do. It is said that he was a passenger on an American Airlines flight to Nassau. But he decided that he wanted to have his two TVs carried by Bahamasair as unaccompanied baggage because he could not get AA to carry them. When he was told by the counter agents that he could not do that, he was livid. He eventually found someone on the line who would take the boxes for him. The next argument was that he wanted to pay 100 dollars for the carrying of the overweight packages The charge was actually $200. He put up a fuss but had to pay. Problem is as soon as he went back to Nassau he filed a formal complaint with the Minister responsible Neko Grant who ordered an investigation into the matter and then subsequently dropped the issue when the real facts were revealed. Things are tough in Andros but we didn't know it was that tough.
Mitchell With Bahamian Students In Florida

Fred Mitchell MP for Fox Hill and the Opposition's spokesman on Foreign Affairs visited the Florida Atlantic University campus in Boca Raton, Florida to visit with Bahamian students attending the Florida Caribbean Students Convocation there over the weekend. He was accompanied by Keenan Johnson, the Chairman of the Progressive Young Liberals and PLP Vice Chair Randy Rolle.


Stanley Moir Buried

The ashes of retired Assistant Commissioner of Police Stanley Moir were spread at sea following a funeral service on Friday 23rd March. He is survived by this wife and two sons. Mr. Moir joined the Royal Bahamas Police Force as a recruit into the colonial police service in the United Kingdom in the 1950s and spent his entire career in The Bahamas. He was eulogized at the Christ Church Cathedral in Nassau by amongst others the Hon. A. D. Hanna, former Governor General and Commissioner of Police Ellison Greenslade. Fred Mitchell MP and Senator Allyson Maynard Gibson attended for the PLP. The photos are by Peter Ramsay
Extract Magazine


The second edition of Teej Grant's Extract Magazine is soon on the newsstands. The photo shows what the cover will look like.