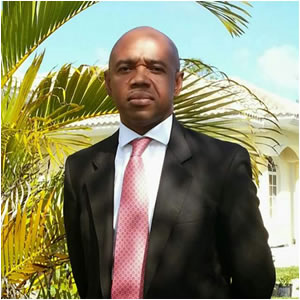 In October, 1998, the PLP held its national convention at the Cable
Beach convention center. The highlight of this convention
was the second leadership race between former Prime
Minister, Perry Christie, and the late, Dr. Bernard
Nottage.
When the ballots were counted that fateful
Thursday, Christie had, once again, won the leadership of
the PLP. Dr. Nottage took the hand of the leader and
hoisted it in the air and pledged his full support to the
leader and party.
All was thought to be well that fateful night.
We, in the Nottage wing, foolishly and honestly believed,
and accepted the will of the delegates in convention. We
believed that our party was made stronger because of the
democratic process. We further believed that the ideas
brought forth could have only enhanced and uplift the
forward progress of the PLP and the country.
Obie Wilchcombe was the chairman of the PLP.
That Friday morning Wilchcombe took full control of the
morning session to go through the ratification of all
national general council members (NGC). This was supposed
to be a largely ceremonial process.
Chairman Wilchcombe without authority started to
purge off his party members that would have made Joseph
Stalin smiled. He purged NGC members who were duly elected
at the annual general meeting of each branch. Their only
crime was openly supporting Dr. Nottage. The first persn
to fall was the late Vincent Coleby of Andros; another
Reverend gentleman from Andros whose name I cannot recall;
then a member from Cat Island; fom the Pineridge
constituency in Grand Bahama, Forrester Carroll; and from
Marco City, Brian Seymour. I went to an open mike on the
convetion floor and held up a copy of the PLP
constitution. I brought to the attention of the chairman
that what he was doing was unconstitutional. I further
protested that the constitution was the Bible of the
organization. My protest fell on deaf ears. Finally, the
deed was done albeit unconstitutional.
It would appear nineteen (19) years later,
comrade Obie Wilchcombe would not have learned any lessons
from the past. Building a political party is simply adding
to your party's numbers, people everyday who will
support you, that is the foundation of which one should
build.
Instead of simply announcing his candidacy for
chairman, he chose to attack his former colleague, Jerome
Fitxgerald. This was an unwarranted attack and abuse of a
would be supporter when one is down. Hence, we have four
seats in Parliament today because we abuse our
supporters.
Finally, Wilchcombe's utterances does not
bode well for the future; nineteen years later, no change in
thinking, so sad.
Brian Seymour