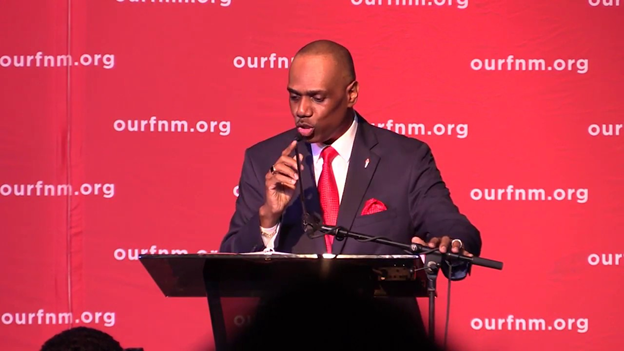 The first sign in the FNM that all is not as it seems came when Frederick McAlpine MP Pineridge signalled in the House of Assembly that he did not agree with the decision of the Prime Minister Hubert Minnis to allow students from hurricane ravaged Dominica to come stay in The Bahamas until their country recovered. The Tribune reported this on Thursday 28th September:
"Before you question my (Christianity), let me remind everyone and those watching by television, nobody in this country got a heaven to put me in or a hell to keep me out of.
"I don't want you to think that I don't think we should assist the people of Dominica, but the route we are taking may cost us more in the long run. I understand emphatically well that during our dilemma, during Hurricane Matthew, (Dominica) contributed $100,000 to assist us.
"We're grateful. Well, my view is, the time has come that we should assist them. But my view, how? They gave us $100,000 maybe we should give them $200,000. Now I hear the story bout ain' no money, but I know the Cabinet and since we talking about (Christianity) there's something called seed time and (sow time), and there's enough folks in the Cabinet who could underwrite that and not miss it. So, if we can't afford it, do it on our behalf.
"Once Dominicans experience a "better standard of living" in the Bahamas once they get here, they may not be inclined to return to their country.
"And let me also bring to your attention another reality; we could have our problem but here is the harsh reality, when we have our problem Bahamians don't run to the south, they run to the north because of our standard of living.
"So when you bring folks from south up here to another standard of living, let's see if they will be in a hurry to go back from whence they came.
"Children are coming, are they all immunised? Do we know their conditions? They may be coming from (the) south but which one of you in this House would send your minor child to another country not accompanied by you? Who is coming with these children? How long are they are going to be here? Assist, but don't put us in a deeper quandary. It may cost us more going the route we're going…
"Progress for Grand Bahama has been moving painfully slow. I have had no dealings in the negotiations of what takes place on the Lucayan strip because I have not been involved in the process despite wanting to be.
"There seems to be a lack of cohesiveness as to what direction the island is going in or the harsh reality that it's just not going. The economy in Grand Bahamas has left some Grand Bahamians homeless and sleeping in cars."