FUNERAL ARRANGEMENTS FOR DR. NOTTAGE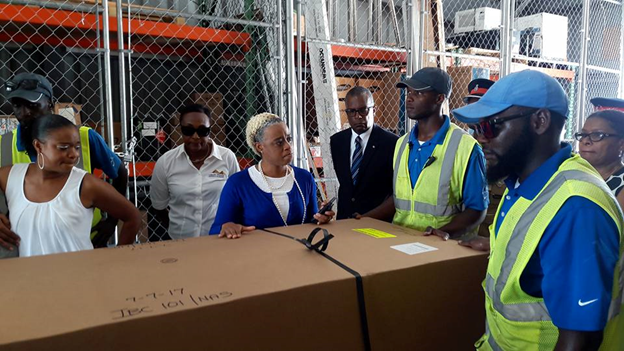 PLPs in their various chat groups and on Facebook were exercised about the fact that the arrival of Dr. Bernard Nottage's remains into The Bahamas was not more ceremonial. They complained that it was a plain box with his name written on it and no flag draped box. They should realize that these matters are decisions of the family and PLPs do not know what decisions families make. That is their business and if the family is not concerned about it why should we be. Then they complained about the fact that cameras were there and that this should have been reserved for the family. Again that was the family's decision. But we also say this, we think that it could have been more ceremonial but the fact is the PLP is not in power. The PLP lost the election. The Foreign Ministry and its protocol department fell down. The Cabinet Office is disengaged. Hubert Minnis doesn't give a flying you know what about Bernard Nottage or the PLP, so this is what you get. Let's concentrate on getting state power and stop burning up energy on things we can do nothing about — Editor 
NASSAU, The Bahamas — The Cabinet Office has advised that on Friday, July 14, 2017 there will be an Official Funeral for the late Dr. the Hon. Bernard J. Nottage at St. Agnes Anglican Church, beginning at 11:00 a.m.
There will be viewing at PLP Headquarters on Tuesday, July 11; at the National Stadium on Wednesday, July 12; and at the House of Assembly on Thursday, July 13.
And Official funeral means according to the Government's website:
The Official Funeral, the second/intermediate level Government supported funeral, is accorded former Cabinet Ministers, as well as serving or retired Members of Parliament. An Official Funeral offers the following:
Payment of funeral costs up to a maximum of $10,000.00.
Attendance by the Governor-General, the Prime Minister, Cabinet Ministers, Parliamentarians and senior public officers.
Live radio broadcast that may be recorded for future airing (usually 1.5hrs. in duration).
Lying in State at the House of Assembly and signing of the Official Condolence Book.
Police and Defence Force Honour Guard.
Officials march in procession from the House Assembly to the funeral church and from the church to the cemetery.