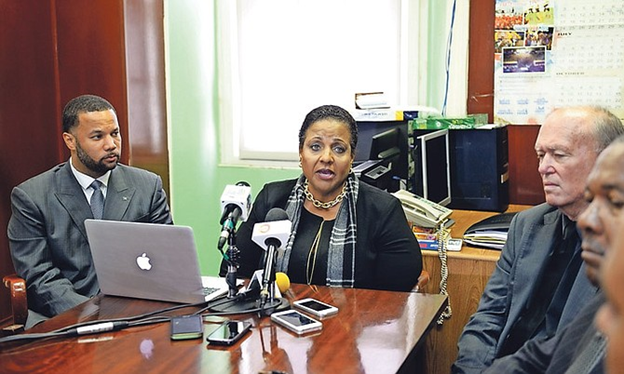 16 December
Former Free National Movement MP Pierre Dupuch said the actions of the seven FNM rebels led by Loretta Butler Turner guaranteed a win for the Progressive Liberal Party (PLP) in the 2017 election. Former FNM Cabinet minister Tennyson Wells has also told The Tribune that Dr Minnis' ouster will likely amount to nothing.  The talk around town is that they had no idea what to do next. Here is what Mrs. Butler told The Tribune in her own words:
"The game plan, while I must admit has a foundation, it still has to be filled out and that takes collaboration. So why are you placing these huge demands on one person? You've got an ineffective government at the end of their term and they still haven't demonstrated their game plan even though they have given you a plan from 2011.
"We at this late stage we haven't come out with our game plan. What you see evolving here has taken a bit of time and we know that it's going to take a little more time to complete that. But when we present it it's going to be understandable. It's going to be digestible. It's going to make sense and hopefully it's going to be something that the Bahamian people are proud to have."
"I could have chosen from anyone among many people who would have been obvious choices, but what I am trying to do is to reflect in the Senate almost a microcosm of our society.
"That is why we are waiting for the final senator to come in and maybe there will be some shock, some awe, some surprises, but you will know that that will be a direct reflection of the people that make up this country and that is a process of inclusion.
"It's going to be different. You are going to have reaction. You might even have rejection, but every Bahamian must know that at somewhere in governance whether in the House of Assembly or in the upper chamber of the Senate that they will be reflected in that make up. I think that is the most important thing. "The Bahamas is a melting pot of persons and we cannot be exclusionary to one demographic. So I think you should stand by and watch to see what we are going to present. It certainly is not going to be friends, family and lovers or nepotism, cronyism or anything. It's going to be representational of the Bahamian people and that's what we need."
(Editor's note: As at press time, the talk around town was that Mrs. Butler Turner was actively courting the gay community in The Bahamas and was proposing to appoint either Erin Greene or Tennille Burrows, two gay activists to the Senate.  She was also proposing Louby Georges, the Haitain activist as a Senator. She proposed to put Senator Monique Gomez back in the Senate as her own appointee.)