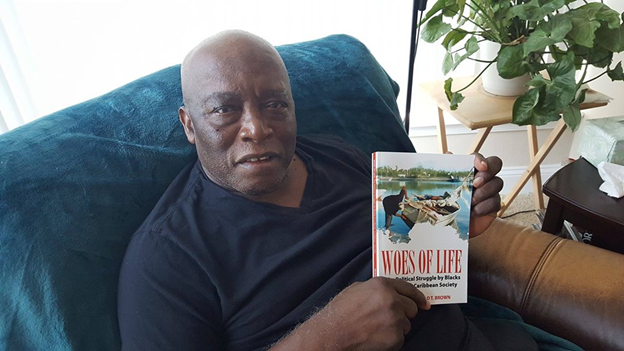 The former Press and Cultural Attaché of The Bahamas Embassy in Washington D C posted this on this on his Facebook page 19 August:
GOD IS CERTAINLY GOOD: The first printed copy of my novel WOES OF LIFE arrived in the mail yesterday for final review. After closely checking all 341 pages and 24 chapters, I'm as excited as a six-year-old boy on Christmas Eve waiting with giddy expectation for his "reward" from Santa for being "good" throughout the year, knowing that it will be available to the reading public next week. My wife Elisabeth Ann Brown took this photo of me with the first copy after the "good news" arrived in the mail.
I have established contacts in New York, Atlanta and Chicago as possible stops on my book-signing tour, but I plan to kick-off the tour in Nassau and Freeport, where my work as a journalist is well known, in late September of early October. Arrangements are being made for WOES OF LIFE to be available at LOGOS bookstore and BUY THE BOOK bookstore in Nassau as well as Bethel Superstore on West Mall Drive in Freeport and for book-signing events to possibly be held at those establishments. But you can order your copy at www.oswaldtbrown.com
WOES OF LIFE is a wonderful book and I guarantee you that you will enjoy reading it. Let me forewarn Bahamians, however, that it is fiction and not based on political events in The Bahamas, as many people seem to think it is. Of course, while reading it some Bahamians will swear they know who some of the characters are based on, but as the saying goes, any similarities to persons living or dead are purely coincidental. God is certainly good.