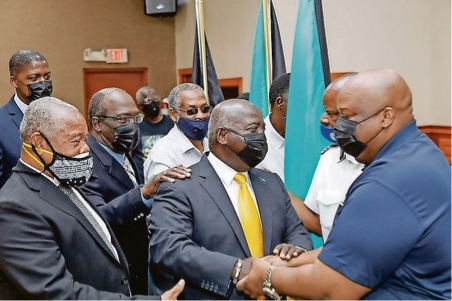 Labour leaders congratulate Brave Davis (yellow tie) after the signing of the Memorandum of Understanding.
Wednesday 25 August 2021 was a great day for the labour movement and the Progressive Liberal Party. They were back together again. The Labour Movement as represented by two umbrella unions signed an historic agreement or Memorandum of Understanding to work on objectives to improve the lives of working people in the country. The two unions: the National Congress of Trade Unions Bahamas (NCTUB) and the Commonwealth of The Bahamas Trade Union Congress (BTUC) signed the agreement.
The agreement was signed by Obie Ferguson and Rock Morris of the BTUC and Bernard Evans and Paul Maynard of the NCTBU. For the Progressive Liberal Party Philip Davis signed and Senator Fred Mitchell.
The parties to the agreement said that they would work together to create a livable wage and to ensure that the industrial agreements in the tourism sector are enforceable.
The next day there was a press release by a number of affiliates of the NCTUB that claimed that they had not seen the agreement and therefore the officers of the umbrella union did not speak for them. The PLP issued a statement saying that they had no comment to make on the internal affairs of the union. The PLP itself had said that its side of the bargain was subject to the agreement of the PLP's Council. The point is that the PLP signed with a body corporate and their internal matter and procedures are no the affair of the PLP.
The point also is that none of the dissenting unions could honestly claim that they did not see the memo because they did. None of them said that they disagreed with the objectives. So you ask yourself why would these people including the down on its knees Hotel Catering and Allied Workers Union issue a statement which seemed to undermine a progressive development for labour?
The answer is the trouble maker Belinda Wilson. She heads the Bahamas Union of Teachers and is an incorrigible FNM. She is politically blinded by that fact and cannot get over it.
So we think that it is important to say that the agreement is a milestone in the life of the country. There a lot of work to do. If the provisions of the agreement are carried out, it will lift up the life of working people in our country. It is only for the better. The dissenting unions should go get a life.