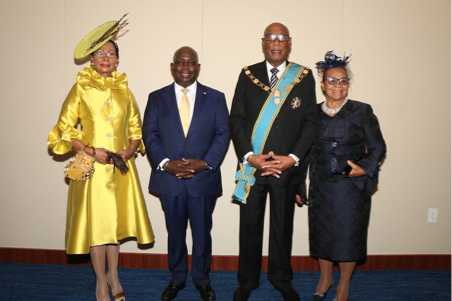 Prime Minister Philip Davis and Mrs. Davis with Governor General Cornelius Smith and Lady Smith. 18 September 2021
The new Prime Minister of The Bahamas is Philip Edward Brave Davis. He is from Cat Island. That was where Brave Senior was from and his mother was from Smith's Hill in Exuma. He lived first in a little house off the then rocky Wulff Road and then moved a step up on Rolle Avenue, the servant cluster for the Sears Addition people of the Valley.
His formative years were spent in Old Bight Cat Island. His daddy was a fireman and his momma a maid. He is a self-made man. He has raised all his children as successful professionals in their own right. He is a Queen's Counsel. He was vilified in the campaign because of his profession. But now as of the 17 September 2021, he is the Prime Minister of The Bahamas.
The turnout for the election seemed to be quite low. The question was why? In some places it may have been a low as fifty per cent. The speculation is that many people chose to stay home with a combination of the dangers of the pandemic and general disgust with the political alternatives. But as the late Frank Edgecombe once said: " My brother you only have to win by one".
The PLP now has 32 seats and the FNM 7. This is a dramatic turnaround from the disastrous result of the 2017 general election, with the PLP down to 4 seats and the FNM by 35. But the coalition did not last long that 2017 one. And that is the lesson this victory. These coalitions do not last long. The large majorities appear to be inherently unstable. It didn't last for Pindling, Ingraham, Christie or Minnis. Brave Davis will pull a hat trick if this can be sustained over the five years.
There are too many people to satisfy and it is difficult to do so.
Quite apart from the Members of Parliament and the Senators, there are the people themselves who are in a desperate mood. They have no patience. Time is not on the PLP's side. There are ticking timebombs and the foes press forth on every side.
We wish the new Prime Minister Brave Davis well. He has a tough job and he will need all the support that he can get. We give that to him along with our best wishes. He has done a remarkable job for the PLP.