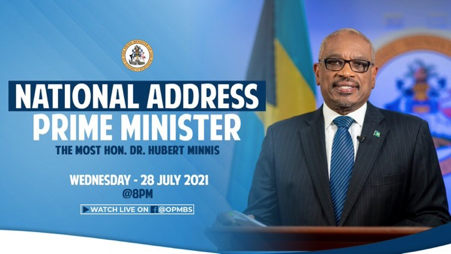 Mama used to say that if you don't know what to say, the best thing to do is to say nothing. That is a twist on the saying that it is better to be silent and be thought a fool than to open your mouth and it be confirmed that you are one.
That is our message to the Prime Minister Hubert Minnis after a most vacuous address to the nation on Wednesday 28th July 2021. The Friday before that 23 July 2021, the Minister of Health like a thief in the night announced a raft of new measures to quiet the political noise about the massive rise of covid cases, something like 132 new cases within a week.
Both hospitals both private and public have been closed to new patients unless there is an absolute life and death emergency. The wards are full of covid patients and the country is out of ventilators. Nurses are dying and for those of us on the political hustings, we cannot enter too many homes because they are in quarantine.
One of the most silly of the new regulations was that those campaigning must be fully vaccinated and they can only go out in groups of five. How the heck they are going to police that God only knows but we are assured that no one will follow it.
The PLP accused the Government in its response of trying to suppress freedom of speech.
That is the way we see it.
Dr. Minnis is widely unpopular in the country. But for some reason his pollsters keep telling him that he is the opposite. So he went and spread rumours that he will call the election and have it done before school opens in September. That stalled when the Leader of the Opposition Philip Davis called his bluff and told everyone they had one day to register. They went out in droves. They surely were not registering because they want to vote for the Prime Minister.
So the national address fell flat as a pancake. It ended up being a mawkish appeal by the Prime Minister for people to get vaccinated. With that we agree, but the public education of his government on the matter has been an abject failure.
The biggest laugh was all the religious quotations and the appeal to the gospel of Christ. For someone who is so visibly agnostic, that was a big joke. Even the devil can quote scripture as you know.