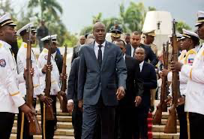 Haiti is a never ending story of confusion, disorder and intransigence. It is once again plunged into more confusion when some people, now identified as Columbians and Americans, went to the private home of the President Joseph Jovenel Moise and ransacked the place and shot him dead. They then took footage of their escapades and sent them around the world. They were later caught and put on display after six of them were shot dead. Haiti now has an interim Prime Minister. There is an argument over that as well. The Government there has called on Joe Biden to send in US troops to guard vital infrastructure. That is a strange request, the so called Black republic asking once again for the U S to protect their independence. The Leader of the Opposition Philip Davis issued a statement following the death of the President:

7 July 2021
The Progressive Liberal Party notes with shock and regret the assassination of the Haitian President His Excellency Jovenel Moise.
We are shocked by this heinous act of violence and offer to the government and people of Haiti our prayers and support during this difficult time.
End