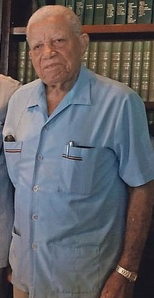 The following statement was issued by the Leader of the PLP Philip Brave Davis:
For Immediate Release
5 August 2021
I am saddened to learn of the passing of Dr. Al McCartney, Pastor Emeritus of East Street Gospel Chapel.
Pastor Al will long be remembered as a stalwart and a good and faithful servant in the work of the Brethren Assemblies in The Bahamas.
His impact on the religious community is indelible, his leadership has influenced many deacons, elders and pastors, and his erudite teachings have enlightened and edified many.
Pastor Al ran a good race, he did not faint and was never weary in doing good. Transitioned to eternity to receive his just and eternal reward, we who remain will memorialize his legacy of Godly living and loving thy neighbor as thy self.
I remember especially his son Lennox with whom I worked when I was Chair of the National Insurance Board.
Go with God brother Al.
I thank him for his service to the church community and to The Bahamas.
On behalf of my wife Ann Marie, PLP Deputy Leader Chester Cooper and Mrs. Cooper, National Chairman Senator Fred Mitchell and the officers and members of the Progressive Liberal Party, I express heartfelt condolences to the McCartney family, especially Dot, Billy, Tammy and Lennox on his passing.
May he rest in peace
LMN
End