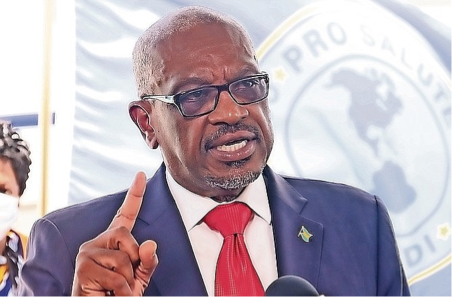 When Hubert Minnis, the last Prime Minister before Philip Davis , lost the general election on 16 September 2021, he said that he would be giving up the seat as Leader of the FNM and holding a special convention on 27 November 2021. The expectation was that he would be stepping down once and for all.
The ink was not dry on that statement, however, before he immediately tried to start bobbing and weaving. When it became clear that Michael Pintard MP and Shannondon Cartwright MP were opposing him as a team for the leadership, his friends started calling the new Prime Minister to say that the two of them should be investigated by the new government because the former Prime Minister intended to do so if he won. Treachery was afoot.
Then in the press, he would not answer Theo Sealy's question about whether or not he intended to run again. He answered like the Greek oracle, some nonsense about it being in God's hands.
He has been canvassing up and down the country trying to line up the votes. His brother Cyril Minnis has been leading the charge saying that he had the votes all lined up in his brother's favour.
Well if it were indeed in the Lord's hands, then Hubert Ingraham must be the Lord. Hubert Ingraham said that it was as clear as day that on 27 November 2021, there will be a new leader of the FNM. Dr Minnis threw in the towel within minutes. He was speaking outside the Parliament on 22 October 2021, just after he signed the book of condolences for the late Senator J Barrie Farrington.
Earlier in the month, there was a meeting the folks say at Tommy Turnquest's home which sealed Dr. Minnis' fate. The former Prime Minister Hubert Ingraham's friends say that it was made clear that Hubert Minnis had to go. The women in particular said they could not support him. The support is there for a new leader, although not a consensus on who it should be, Many people are coalescing behind Michael Pintard.
During the week, the former athlete and Minister of Sports Iram Lewis announced that he was going to enter the race.
The MP for St Barnabas Shannandon Cartwright, said he was considering running as well.
Hubert Minnis threw in the towel on Friday afternoon 22 October 20921, saying he would not allow his name to be entered into nomination for leader. Biting the dust.
The PLP should watch all of this carefully. By some estimates only 35 per cent of the total electorate actually voted for the PLP. That means most are opposed to the PLP, although a third of the people stayed at home. What it seems is there was clear and widespread disaffection with Dr. Minnis in the FNM and he goes into history as reviled. Now that says a lot for how the PLP has to govern going forward.