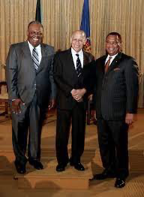 Former Prime Ministers Hubert Ingraham and Perry Christie
From Senator Fred Mitchell, Chair of the Progressive Liberal Party:
For Immediate Release
6 August 2021
The Leader of the Progressive Liberal Party the Hon. Philip Brave Davis has ordered that the protocol flags at the party's headquarters be flown at half staff until the day after funeral of the Most Honourable Arthur D. Hanna. Wreaths in memoriam are to adorn all PLP Constituency Headquarters including the national headquarters until the day after the funeral.
We are working with the family for a suitable observance at the party's headquarters both in Nassau and in Freeport.
There is no word from the Government on whether national flags should be at half staff or what the official period of mourning should be.
All party members and supporters should take note.
End