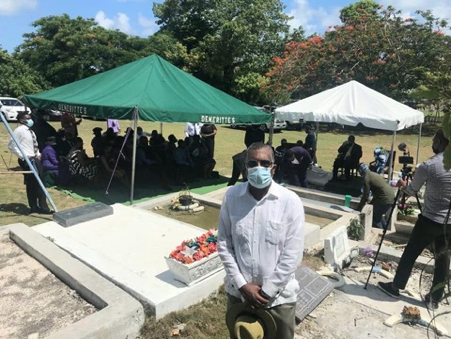 Senator Fred Mitchell at the funeral of the poet and author of The Road at Macedonia Baptist Church 7 August 2021 in Fox Hill. The statement was issued by Senator Mitchell on the day of MR. Johnson's passing :
1 August 2021
On this Emancipation Day, it is my sad duty to acknowledge the passing of one of the African princes of Fox Hill Robert Johnson. A brilliant mind passes into eternity and now like old Abe he belongs to the ages.
In the heat of the battle for our national identity arose a poetic voice from Fox Hill in a seminal work called The Road. Who can forget the record in poetry of the plaintive tribute to those little boys who sold us the newspapers in those days: " Tribune! Tribune!".
Robert Johnson helped us define who were. His work later became part of the Social Studies syllabus for the BJC exams. In that regard, he is part of the pantheon which includes Susan Wallace and Patrick Rahming.
Professionally, he was amongst the first generation of Bahamian Public Relations Consultants. He made his mark there as well.
But first and foremost he considered himself a Fox Hill man.
I had the honour of working with him and my business partner Al Dillette for many years in the PR business when he lived in Grand Bahama.
I am deeply struck by his passing.
May he rest in peace. Go with God.
XTO
End