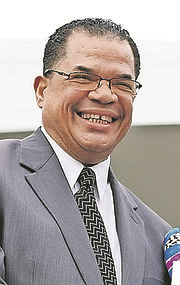 Labour Minister Dion Foulkes
Nobody expected any better from Dion Foulkes, the Minister of Labour.  Most people think he has no interest in being in Government or in public policy.  He doesn't even like Hubert Minnis.  He got the job as part of the Hubert Ingraham/Hubert Minnis pact to buy peace in the FNM so they could win the election.  He certainly doesn't plan to do any work.  He is there to have a good time as he saves up his money for a larger pension.  So it is no wonder that all we hear from him is the occasional statement which describes problems.  He is not getting himself into any bother on anything.  That's our man Foulkes and his brother-in-law Carl Bethel says where you put me. Here is Mr. Foulkes' take on the rise in unemployment under him as Minister of Labour.  He released it on the weekend so the bad news about unemployment won't be noticed on the dead news weekend.
Press Statement
By
Dion A. Foulkes
Minister of Labour
26 January, 2018
3,575 New Jobs
The Government is encouraged by the increase of 3,575 new jobs since May of last year.
Our efforts to make it easier to do business for Bahamians and non-Bahamians is clearly paying off.
Our focus on creating a positive environment for private businesses to flourish has caused an increase in jobs in the Transport, Storage and Communications industry.
We are optimistic that in spite of the small increase in unemployment (0.2%) as of November of last year the new jobs at Baha Mar and other business houses in New Providence will have a major positive impact on the number of Bahamians who will be employed this year.
It is very encouraging that the employment rate increased in Grand Bahama by .03%. The pending sale of the Grand Lucayan Hotels and the reinvigoration of the hospitality industry in Grand Bahama will significantly further increase the employment opportunities on that Island.
The Government continues to be concerned about the high rate of unemployment among our youth and we have redoubled our efforts in creating training and employment opportunities for young Bahamians.
By all indications we are confident that there will be greater opportunities for employment this year, not only in New Providence and Grand Bahama but also in other the Family Islands.
END