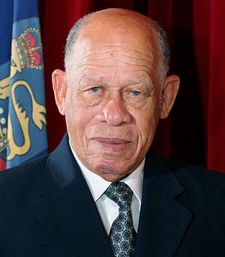 The following statement was issued by the Chairman of the Progressive Liberal Party Senator Fred Mitchell, after the Government sought to take credit for putting the image of the Most Hon. A D Hanna on the 100 dollar bill. Not so said the Central Bank. The PLP is not satisfied with the arrangements that they intend to make to honour Mr. Hanna. He must get the full statement funeral and nothing less will do or be acceptable. The flags should now be flying at half staff
11 August 2021
I spoke to our leader the Hon Philip Davis last evening and to the former Prime Minister and Minister of Finance Perry Christie last evening. Both confirmed that the decision to put the image of Arthur Hanna on the 100 dollar note was one taken by our previous PLP Cabinet.
This has now been confirmed in a public statement by the Central Bank.
If the Minnis administration wanted to be brave, they should have announced the removal of Stafford Sands from the ten dollar bill and its replacement with the image of Dame Doris Johnson.
In typical fashion the FNM and Dr. Minnis are seeking credit for the PLP's work. Shame on them.
Our leaders in the House will determine whether the Prime Minister misled the House and what the consequences of that should be.
XYR
End